The All-Purpose Currach
The sturdy, light and versatile Irish currach is used along Ireland's remote Atlantic coast for fishing, ferrying, and transporting goods and livestock, including sheep and cattle. But a group of… Read more Audio
Getting currachs into the sea back in their native Atlantic west coast of Ireland is easy because they are turned upside down on the beaches when not in use and resemble stranded whales. But launching a currach at Wellington's Evans Bay boat ramp is tricky: its tarred canvas skin (it used to be animal skin) is easily damaged.
Tyres protect vulnerable canvas skin.
The sturdy, light and versatile currach is used along Ireland's remote Atlantic coast for fishing, ferrying, and transporting goods and livestock. The boatmen even tow cattle behind the currach. A group of Irish expatriots built a currach and launched it on Wellington harbour on St Patricks Day, with all due fanfare. But their hope is to build several boats and race them.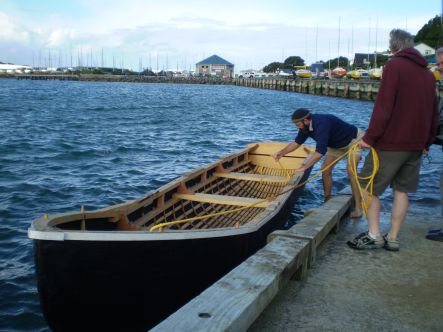 All aboard!
The high-sided currach catches the wind and is hard to steer. Spectrum's Jack Perkins finds that in a choppy southerly the rib-frames (hoops) and stringers (longitudinal slats) flex under your feet. 'It's almost like a water bed' he says.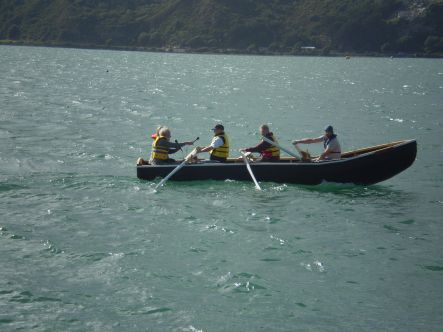 Braving a choppy southerly
Voyage over, the crew walk the currach back to the boatshed.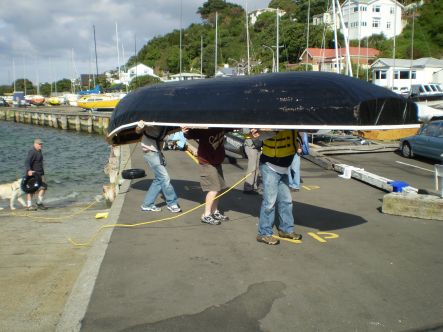 Like a black beetle
Someone produces a tin whistle, another a small Irish drum and that's enough for a traditional song or two celebrating the hardy Irish currach.