Queen of the Seas
Longer than 3 rugby fields and equal to the height of a 23-storey building, Cunard's 151-thousand-tonne flagship Queen Mary 2 is the largest ship to ever visit New Zealand. She recently called into… Read more Audio
Longer than 3 rugby fields and equal to the height of a 23-storey building, Cunard's 151-thousand-tonne flagship Queen Mary 2 is certainly hard to miss.  The largest ship to ever visit New Zealand, she recently called into Auckland for a one day stopover as part of her first Royal Circumnavigation of New Zealand.
Queen Mary 2 from on-board the Ports of Auckland tug 'Wakakume'
And such a voyage is not only enjoyable for the 2,600 guests on-board, but also for the QM2's New Zealand-born Captain, Commodore Christopher Rynd.
QM2 New Zealand-born Commodore Christopher Rynd speaking to assembled guests, with Dame Anne Salmond in the background
And whilst a small single joystick on the Bridge controlling three thrusters allows the ship to turn in her own length in port without the use of tugs, two were on standby just to make sure her early morning arrival went as smoothly as possible.
Join Spectrum's Lisa Thompson as she takes in the QM2's arrival from aboard the Ports of Auckland tug Wakakume, before heading aboard to meet Commodore Rynd and some precious cargo, including Captain James Cook's handwritten accounts of his first days in New Zealand. QM2's sumptuous entertainment facilities were also a target for Lisa's camera.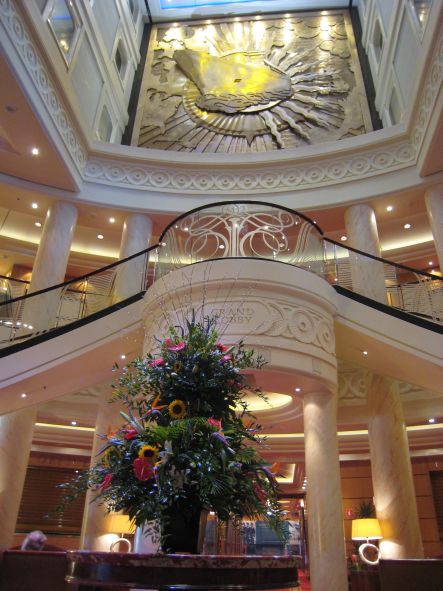 The grand foyer
The theatre with a full size West-end stage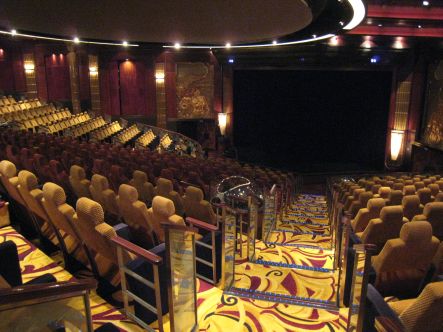 The Planetarium
The ballroom
The Commodore's table in the three story Britannia Restaurant - one of more than 10 on board