The YMen
Wellington Kindergartens developed The YMen project with help from government. It addresses the chronic shortage of men working in childhood education and also the high rates of unemployment among… Read more Audio
Wellington Kindergartens developed The YMen project with help from government. It addresses the chronic shortage of men working in childhood education and also the high rates of unemployment among young men. The project was designed to bring reciprocal benefits to children and their male teachers. The children are exposed to male energies and perspectives, while the men gain insights into the nurture and learning of children.
(from left) Julie Morrison and daughter Saffron with friend Korbin, Afa Tunupopo, Head Teacher Trinity Coulston, Te-Karauna Renau known as TK and General Manager Wellington Kindergartens Amanda Coulston
The YMen project began as a pilot in 2011 with eight young men working in kindergartens alongside qualified teachers. The benefits were immediate and extended beyond children and their teachers to parents and whanau. Male parents particularly felt more comfortable and involved in the kindergartens.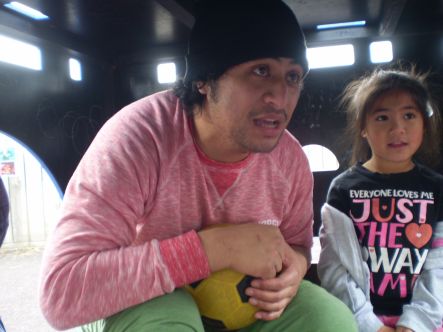 Afa inside the children's playhouse
Of the eight YMen who graduated from the pilot project, two have enrolled in other tertiary study and six have enrolled in degree programmes to become early childhood education teachers.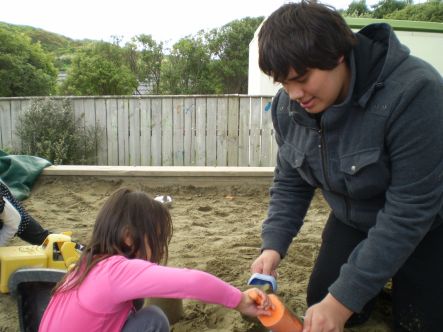 T.K. Getting serious in the sandpit
Buoyed by its success, the project is being run again in 2012 with additional funds from the Todd Foundation. At Katoa kindergarten in Wellington's Porirua basin, Spectrum's Jack Perkins meets Afa Tunupopo, one of last year's graduates who is pursuing a degree in early childhood education. Before joining YMen, Afa had only sporadic unskilled work.
Rough and tumble with Afa
Te-Karauna Renau, known as T.K, has been only three days at Katoa kindergarten on the 2012 YMen project but already he's finding his feet and looking ahead to a career in early childhood education.
'These kids are full-on', says T.K with a smile, 'I was physically wrung out after the first day, but I still felt great.'