Howick Vivat Regina
Her Majesty Queen Victoria was there. So was her right hand man, Mr Brown - solemn and kilted. It was Live Day at the Howick Historical Village, this one marked the 50th anniversary of the founding of… Read more Audio
Her Majesty Queen Victoria was there. So was her right hand man, Mr Brown - solemn and kilted. It was Live Day at the Howick Historical Village, this one marked the 50th anniversary of the founding of the Howick Historical Society.
Ready for the morning flag raising
The three hectare village comprises over thirty original colonial buildings including schools, a church, a working forge, general store and a street of fencible cottages, all inhabited by 60 volunteers in Victorian dress busying themselves with butter-making, baking and candle making.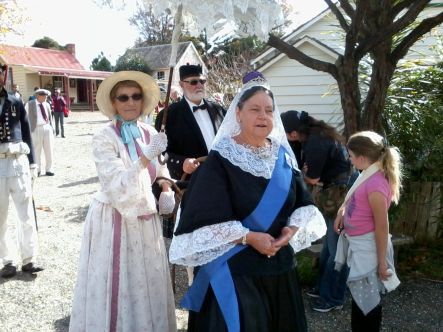 Victoria on walkabout
Bagpipers marched, maypole dancers danced, and soldiers drilled and fired off their muskets. After the flag raising and God Save the Queen, David Steemson, for Spectrum, took tea with her Majesty in the big house.
Harmonium in full  swing at morning church service