Kids Enriched
'I used to be shy at reading. Now I'm confident and learning amazing new words.' Just one happy student who's taken part in One Tree Hill College's reading enrichment programme. Each week a posse of… Read more Audio
"I used to be shy at reading. Now I'm confident and learning amazing new words."
Just one happy student who's taken part in One Tree Hill College's Reading Enrichment Programme. Each week a posse of retired professionals descend on the college to work one-on-one with the select few students, to improve reading comprehension skills.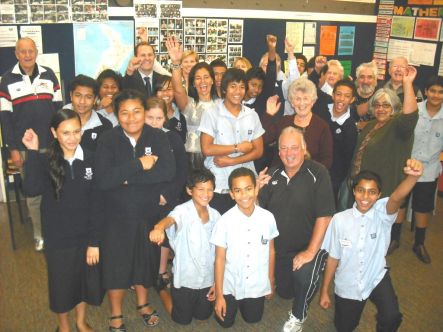 One Tree Hill College kids and their tutors
The programme was started by retired businessman Harvey Alison after he read that   more than three quarters of New Zealand's prisoners are illiterate. He says it's possible to pinpoint literacy inadequacies in many lower decile schools and colleges, and do something about it.
All 30 or so tutors work voluntarily, but Harvey raises funds through Penrose Rotary to pay for special books bought from the United States.
For Spectrum, David Steemson goes back to class to meet some of the tutors and  to talk to  students Anaru and Salote amongst many others.