Living History
The secrets of old Oamaru are about to be spilled. It's not exactly a cast of thousands, but thanks to a couple of hard-working actors the characters and tales of 19th Century Oamaru are brought back… Read more Audio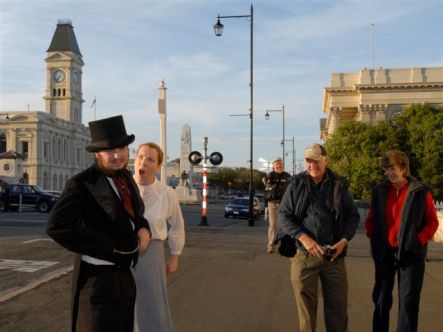 The secrets of old Oamaru are about to be spilled. It's not exactly a cast of thousands, but thanks to a couple of hard working actors the characters and tales of 19th Century Oamaru are brought back to life.
There's the return of Sir George Grey to what is a boom town. Then there's the cautionary tale of the canny laird who gets one up on his whisky-prone gardener. And talking of old soaks, there's a temperance lady on the bandwagon again, much to the despair of the town's Irish larrikin. And there are many more tall tales and true, as part of the Living History project walking tour with a difference.
Mike Gourley takes the pledge in Oamaru's whitestone precinct, where all the world's a stage.