An Honest Day's Work
Mike and Anna are disabled and they've found work through the Hamilton-based trust"Career Moves". Audio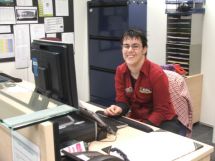 Mike Hogan has got his first proper job in ten years and he's over the moon. Bubbly young Anna Nelson is revelling in her first real job too. Both Mike and Anna are disabled and they've found work through the Hamilton-based trust Career Moves.
For the last fourteen years Mike Hogan has been slowly going blind. He was forced to give up his job as a chef in 1998 after being declared a hazard in the kitchen! Since 2001 he's been in a wheel chair because he now also has multiple sclerosis. These days in his specially adapted chair, he works on an assembly line for animal health instruments.
Anna Nelson was born with cerebral palsy and works as the Disabled Student Coordinator at Waikato Polytechnic WINTEC in Hamilton. Anna doesn't think of herself as having a disability. She enjoys offering advice and support to the more than two hundred students on campus registered as disabled.