The Dome Home
A dream home literally buried in the sand dunes. Audio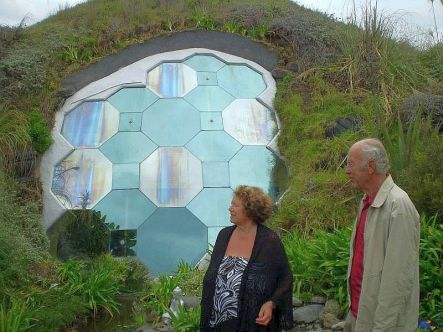 Five ferro-cement domes buried in the wind-swept Kapiti coast sand dunes form the dream-home of Austrian architect Fritz Eisenhofer and his wife, former miss New Zealand Helen Rickard.
Fritz came to New Zealand in 1953 as one of more than 190 skilled Austrian tradesmen given contracts to build 500 pre-cut Austrian state houses in Wellington's Titahi Bay. He married Helen and initially the pair lived in a garage with a bucket toilet.
But Fritz's fresh, bold designs soon put the Eisenhofers on the ladder of success: The Jamieson House on Evan's Bay stopped traffic with its' distinctive 'folding' roof and Tustin House in Lower Hutt hit the headlines in NZ Home & Building in 1967 with its interior courtyard and pool with a sliding roof.
Spectrum's Jack Perkins explores the underground house adjoining Peka Peka beach, with its ingenious merging of indoor and outdoor living. It's the culmination of Fritz's environmentally-friendly, energy-efficient designs.