The Jack And Jill Champions
Maori husband and wife team Jason and Karmyn Wynyard - world champion wood cutters. Audio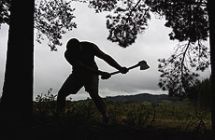 If there's a hail of wood chips or flying sawdust, chances are that Karmyn and Jason Wynyard are in action, either in tandem on the crosscut saw (the Jack and Jill) or Jason with his axe. They are world champions in both disciplines.
Charlie Leaf goes behind the woodchips and sawdust to explore the values and lifestyle of this exceptional Maori family.
'The Jack And Jill Champions' is a co-production between Spectrum's Jack Perkins and Charlie Leaf, sports presenter from Tokoroa's Iwi radio station Raukawa FM.