Sumer Was Icumen In
Jack Perkins donnes blouse and knickerbockers to enter a Living History Medieval camp. Audio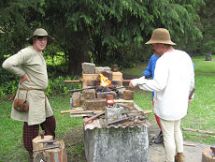 Spring was sprung and 'sumer was icumen in' when Spectrum donned blouse and knickerbockers to attend the spring camp of Living History medievalists.
One armourer burnishes a breast plate, another restrings a bow. The blacksmith fashions arrow heads in the glowing forge while minstrels sing of mead and maidens. But woe betide anyone who shows up at this Medieval Living History spring camp in trainers with lunch in a plastic box. This camp is all about authenticity.
Spectrum's Jack Perkins donned blouse and knickerbockers and gained special dispensation for his microphones to look at medieval life through the eyes of lads and lassies steeped in the period.