Filling in the Gaps
New Zealand Sikhs talk about their lives and culture. Audio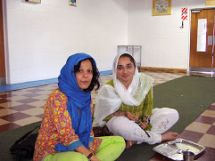 Verpal Singh came to New Zealand from India five years ago. He is a production engineer studying classical history and literature at the University of Auckland. Amaninder Singh is a recent migrant. Both are Sikhs who are working to create a better understanding of their religion and culture within the space of New Zealand.
Sapna Samant (left) with Amaninder Singh.
The Sikhs are part of the greater Indian community and first came to New Zealand in the late 1800s. They quietly went about their work and building the nation while trying to maintain their culture, language and religion at the same time. But Verpal realised there was more to be done; that there was a need to fill in the gaps of knowledge and information within the Sikh community, the larger Indian community and mainstream New Zealand. He initiated the Sikh Centre and the Sikh Council of New Zealand. Amaninder is part of the activities of both the organisations.
In Filling In the Gaps Sapna Samant chats with Verpal and Amaninder at the Otahuhu Gurudwara (Sikh Temple) about their organisations and their life in New Zealand.
Also with them are Gurnit Kaur, an international student from Hong Kong and Bhajnam Kaur a fourth generation Sikh-New Zealander, who talk about their experiences as Sikhs in Hong Kong and Aotearoa.