A Nurse's Story
'It was a symphony of pain, - hundreds of wounded lying on the bare hospital floor moaning. We'd run out of even basic medicines, - our main treatment was amputation'.
Nurse Isobel Maguire recalling a frontline hospital near Madrid in July 1937.
Only months earlier Isobel had volunteered her services to the Spanish Medical Aid Association; helping the Spanish government and the International Brigade against general Franco was her way of fighting the spread of fascism. The leftist forces were in need of help, many countries including Britain had taken a stance of non-intervention but this only served to leave other countries such as Germany free to support Franco. Even the International Red Cross adopted a non-intervention policy which, exacerbated the shortages of medical supplies and personnel.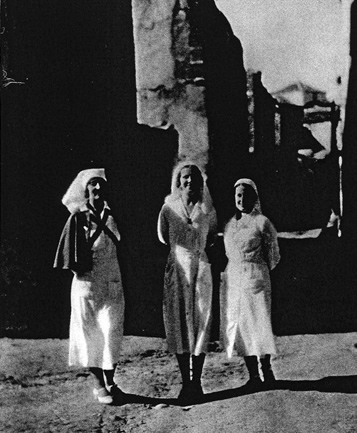 The stance of the Red Cross was an additional motivator for Isobel to leave her job at Auckland hospital and offer her services to the socialist cause. The New Zealand authorities confiscated the passports of Isobel and two other nurses also heading for Spain but returned them when they found no grounds to prevent them leaving the country. Had they been card-carrying communists it could have been different.
The shocking conditions they found on the front line soon worsened as Franco's forces gained ascendancy. They evacuated the hospital and joined a flood of refugees streaming south to Barcelona. By November 1937 Isobel Maguire reached Britain. She was 22 years old.
Pictured: The New Zealand nursing unit, Renee Shadbolt, Isobel Dodds and Millicent  Sharples, pictured in Huete, Central Spain, shortly after their arrival in mid-1937.
Auckland nurse Isobel Maguire volunteered her services to the Spanish Medical Aid Association; helping the Spanish government and the International Brigade against general Franco was her way of… Read more Audio