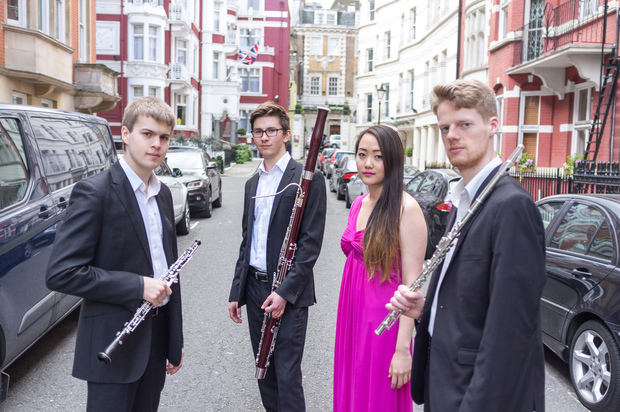 New Zealand musicians Thomas Hutchinson (oboe), Hugh Roberts (flute), Todd Gibson-Cornish (bassoon) and Somi Kim (piano) are all based in Europe, studying and freelancing in top orchestras.
They perform together as the Mimosa Ensemble, and have returned to New Zealand for the 50th Jubilee Celebrations of the 2015 NZCT Chamber Music Contest (1-2 August), the longest running youth music competition in New Zealand (three ensemble members are former winners of the contest).
Kim Hill welcomes them home.
They will perform before the National Finals on Sunday at the Michael Fowler Centre (the Finals are being filmed and recorded by Radio New Zealand Concert for later broadcast.
The ensemble recently completed Play It Up, a ten-day music residency pilot at schools in the Hutt Valley, and are touring the country on the Chamber Music New Zealand Regional Encompass Series Tour 2015, which has seen them play in Tauranga, Wellington, Waikanae, Lower Hutt and Wanganui, with performances still to come in Motueka (4 August), Rangiora (6 August), Gore (9 August), Gisborne (12 August), Whakatane (13 August), and Kerikeri (16 August).
Here's Todd's video: Bassoon Reed Making 101