Saturday Morning for Saturday 1 February 2014
8:15 Chris Hadfield
Canadian astronaut Chris Hadfield retired recently as Commander of the International Space Station. His photographs and videos about life in space (including his zero-gravity performance of the David Bowie song Space Oddity) have gained a worldwide audience. He is the author of An Astronaut's Guide to Life on Earth (Macmillan, ISBN: 9781447257516).
9:05 Kayla Iacovino
Kayla Iacovino is pursuing a PhD degree at the University of Cambridge in volcanology and petrology, and has participated in field expeditions to Antarctica, Ethiopia, Chile, Costa Rica and North Korea. She is science writer for TrekMovie.com, the leading Star Trek news site.
9:45 Art with Mary Kisler
Mary Kisler is the Senior Curator, Mackelvie Collection, International Art, at the Auckland Art Gallery Toi o Tamaki. She will discuss her upcoming project on the artist Frances Hodgkins.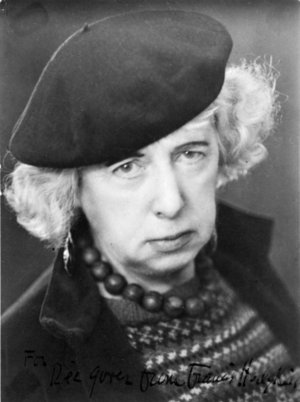 Frances Hodgkins, c. 1937 (National Library) Gallery of images is here.
10:05 Playing Favourites with David Hepworth
David Hepworth is a British writer, broadcaster and editor. As editorial director of Emap Consumer Magazines, he was involved with titles such as Smash Hits, Q, Mojo, FHM and Empire. He is now editorial director of Development Hell, which publishes MixMag and formerly published The Word, and speaks and writes on 
11:05 Lemi Ponifasio
Theatre artist and choreographer Lemi Ponifasio and his company Mau have been internationally acclaimed for their portfolio of works, two of which will be presented at the NZ Festival. The Crimson House (5 and 6 March) has its world premiere in advance of a world tour, and Stones In Her Mouth has its New Zealand premiere (4 and 5 March).
11:45 Poetry with Gregory O'Brien
Painter, poet, curator and writer Gregory O'Brien, MNZM, is the author of a number of books, most recently the poetry collection Beauties of the Octagonal Pool (AUP, 2012). Greg will discuss summer poetry, with reference to Lifeguard by Ian Wedde (AUP, ISBN: 9781869407698), and Book of Equanimity Verses by Richard von Sturmer (Puriri Press, ISBN: 9780908943418).
Music played during the programme
Details of tracks and artists will be listed on the Playlist section of this page shortly following broadcast.
Studio operators
Wellington engineer: Shaun D Wilson
Auckland engineer: Jeremy Ansell
Pre-record engineer; Katrina Batten
Research by Anne Buchanan, Infofind
Music played in this show
Playlist
David Bowie: Space Oddity (excerpt)
The 1969 single from the album: Space Oddity
(RCA)
Played at around 8:10
Chris Hadfield: Space Oddity
The 2013 YouTube recording
Played at around 8:55
King Krule: Ocean Bed
From the 2013 album: 6 Feet Beneath the Moon
(XL)
Played at around 9:40
The Beach Boys: Warmth of the Sun
From the 1964 album: Shut Down Volume 2
(Capitol)
Played at around 11:40
Playing Favourites with David Hepworth
Ron Moody and cast: You've Got to Pick a Pocket or Two
From the 1968 soundtrack album: Oliver!
(RCA)
Played at around 10:20
Bob Dylan: Farewell
From the 2013 soundtrack album: Inside Llewyn Davis
(Nonesuch)
Played at around 10:35
The Beatles: All My Loving
From the 1963 album: With the Beatles
(Parlophone)
Played at around 10:40
Freddie King: Going Down
From the 1971 album: Getting Ready
(Shelter)
Played at around 10:50