Saturday Morning for Saturday 7 December 2013
8:15 Aislinn Laing
Aislinn Laing is the Southern Africa Correspondent for the Daily and Sunday Telegraph, based in Johannesburg.
8:30 John Fitzgerald
John Fitzgerald is Research Professor at the Economic and Social Research Institute in Dublin, Ireland, and a former president of the Irish Economic Association. He visited Wellington this week for the third annual Government Economics Network conference, Modern Economic Methods for Policy Analysis.
9:05 Ann Dowsett Johnston
Canadian writer and editor Ann Dowsett Johnston has won five national magazine awards and is co-founder and co-chair of advocacy group the National Roundtable on Girls, Women and Alcohol. A recovering alcoholic, she wrote a 14-part series on Women and Alcohol for The Toronto Star, and her latest book is Drink: The Intimate Relationship Between Women and Alcohol (HarperWave, ISBN: 9781443418812). The New Zealand Drug Foundation is hosting Ann's visit to New Zealand where she will be speaking at TEDxHomeBushRdWomen in Wellington, the first TedX Women's event in this country (7 December).
9:45 Art with Mary Kisler
Mary Kisler is the Senior Curator, Mackelvie Collection, International Art, at the Auckland Art Gallery Toi o Tamaki. She will discuss the exhibition Freedom Farmers: New Zealand Artists Growing Ideas, currently showing at the gallery (to 23 February 2014).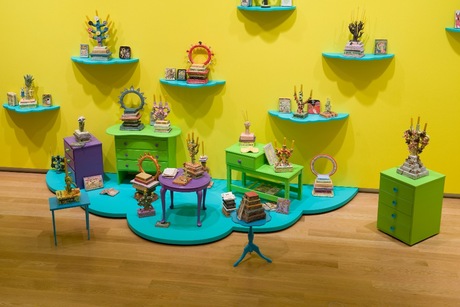 Tessa Laird: The Politics of Ecstasy 2013
Gallery: Images from the exhibition
10:05 Playing Favourites with Tim Westergren
Tim Westergren is the founder and Chief Strategy Officer of personalised internet radio service Pandora, and a composer and musician with 20 years of experience in the music industry.
11:05 Iris DeMent
Iris DeMent is an American singer and songwriter who recently released her fifth album, Sing the Delta, her first recording of original material in 16 years. She visited New Zealand this week with musician husband Greg Brown for two shows in Wellington, organised by The Morgan Foundation.
11:45 Children's Books with Kate De Goldi
New Zealand writer Kate De Goldi is the author of many books, most recently, The ACB with Honora Lee. She will discuss three books:
Splendors and Glooms by Laura Amy Schlitz (2012, Candlewick Press, ISBN: 978-0-7636-5380-4), also published as Fire Spell (Bloomsbury, ISBN: 978-1-4088-2621-8);
A Drowned Maiden's Hair: A Melodrama by Laura Amy Schlitz (2006, Candlewick Press, ISBN: 978-0-7636-3812-2); and
From Norvelt to Nowhere by Jack Gantos (2013, Corgi, ISBN: 978-0-44-87031-9).
Music played during the programme
Details of tracks and artists will be listed on the Playlist section of this page shortly following broadcast.
Studio operators
Wellington engineer: Damon Taylor
Auckland engineer: Ian Gordon
Music played in this show
Playlist
Johnny Clegg: Asimbonanga
From the compilation album: In My African Dream
(EMI)
Played at around 8:30
Greg Brown: Evening Call
From the 2006 album: The Evening Call
(Red House)
Played at around 9:40
Iris DeMent: Let the Mystery Be
From the 1992 album: Infamous Angel
(Warner)
Played at around 11:05
Iris DeMent: Our Town
From the 1992 album: Infamous Angel
(Warner)
Played at around 11:20
Iris DeMent: Mama Was Always Tellin' Her Truth
From the 2013 album: Sings the Delta
(Flariella Records)
Played at around 11:35
Iris DeMent: Living on the Inside
From the 2013 album: Sings the Delta
(Flariella Records)
Played at around 11:40
Playing Favourites with Tim Westergren
The Beatles: Come Together
From the 1969 album: Abbey Road
(Apple)
Played at around 10:15
Judee Sill: There's a Rugged Road
From the 1973 album: Heart Food
(Asylum)
Played at around 10:25
Steely Dan: The Caves of Altamira
From the 1976 album: The Royal Scam
(MCA)
Played at around 10:40
Elvis Costello: Blame it on Cain
From the 1977 album: My Aim is True
(Stiff)
Played at around 10:50
Billy Joel: Vienna
From the 1977 album: The Stranger
(CBS)
Played at around 10:55