Saturday Morning for Saturday 9 November 2013
8:15 A week in leaks: NSA and civil liberties
8:30 Mandy Hager
Mandy Hager has written eight novels, including award-winning young-adult books Smashed, The Crossing, and The Nature of Ash, as well as short stories, scripts, and non-fiction resources for young people. Her latest novel, Dear Vincent was published earlier this year (Random House, ISBN: 978-1-77553-3276). Currently a tutor in novel writing at Whitireia NZ, Hager is the 2013 winner of the Menton Fellowship, one of New Zealand's oldest and most esteemed literary awards. While resident in France, she plans to work on a book about the life of nun, scholar and writer Héloïse d'Argenteuil.
9:05 Jill Trevelyan
Jill Trevelyan is a curator and writer specialising in New Zealand art from the mid-20th century. She is the author of Peter McLeavey: The Life and Times of a New Zealand Art Dealer (Te Papa Press, ISBN: 978-0-9876688-4-4)
9:45 Mark Loewen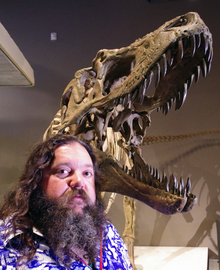 Dr Mark Loewen is Research Associate at the Natural History Museum of Utah. He is the lead author on the study of the newly discovered member of the extended T-Rex family in the southern Utah desert. Lythronax Argestes, nicknamed the 'King of Gore', is bigger and older than all its closest known relatives.
10:05 Playing Favourites with Jeremy Hansen
Jeremy Hansen is the editor of Home New Zealand magazine, and a judge on TV3 series The Block. His new book, Modern: New Zealand Homes from the 1940s to the 1970s (Godwit, ISBN: 9781775534839), looks at homes built during the modernist period by a number of renowned architects.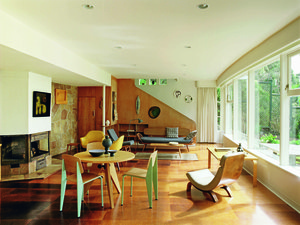 The Donner House in Titirangi, Auckland, from Modern: New Zealand Homes from the 1940s to the 1970s
11:05 Sebastian Faulks
British journalist, broadcaster and author Sebastian Faulks has written many celebrated novels, including The Girl at the Lion d'Or, Birdsong, Charlotte Gray, and A Possible Life, an official James Bond novel (Devil May Care), and now a homage to P.G. Wodehouse: Jeeves and the Wedding Bells (Hutchinson, ISBN: 978-0-091-95405-5).
11:45 Howell Round
Howell Round is Associate Professor at the School of Engineering, University of Waikato and Secretary General of the Asia-Oceania Federation of Organisations for Medical Physics. He will speak about the International Day of Medical Physics (7 November) and International Year of Medical Physics (2013).
Music played during the programme
Details of tracks and artists will be listed on the Playlist section of this page shortly following broadcast.
Studio operators
Associate producer: Melanie Phipps
Wellington engineer: Damon Taylor
Auckland engineer: Ian Gordon
Hamilton engineer: Carol Stiles
Music played in this show
Playlist
Rhye: Last Dance
From the 2013 album: Woman
(Polydor)
Played at around 9:40
Playing Favourites with Jeremy Hansen
Dionne Warwick: Heartbreaker
The 1982 single from the compilation album: The Love Songs
(Epic)
Played at around 10:20
Luther Vandross: A House is Not a Home
From the 1981 album: Never Too Much
(Epic)
Played at around 10:35
Michael Jackson: Rock With You
The 1979 single from the album: Off the Wall
(Epic)
Played at around 10:45
Olivia Newton John with Cliff Richard: Suddenly
The 1980 single from the soundtrack album:  Xanadu
(Geffen)
Played at around 10:55
Bronski Beat: Why
The 1984 single from the album:  Age of Consent
(Polygram)
Played at around 11:35