Saturday Morning for Saturday 26 October 2013
Guest presenter is Mark Cubey. Kim Hill is on leave
8:15 David Peace
David Peace has written four books set against the background of the Yorkshire Ripper murders (The Red Riding Quartet), two volumes of a crime trilogy set in post-World War II Japan (Tokyo Year Zero; Occupied City), and novels about the British miner's strike (GB84), and Brian Clough's management of Leeds United Football Club (The Damned Utd). His latest novel, about manager Bill Shankly and the rise of Liverpool Football Club, is Red or Dead (Faber & Faber, ISBN: 978-0-571-28068-1).
9:05 Robin Moore
Robin Moore is Conservation Officer of the Amphibian Survival Alliance, and recently co-founded Frame of Mind to help young people connect with the world through photography and visual storytelling. He is visiting Dunedin for the biennial ScienceTeller festival (25-27 October), hosted by the Centre for Science Communication at the University of Otago, to deliver the presentation Search for Lost Frogs: Changing Perceptions One Frog at a Time (26 October), and host the photographic exhibition Metamorphosis at the Otago Museum. Click here for images from Metamorphosis.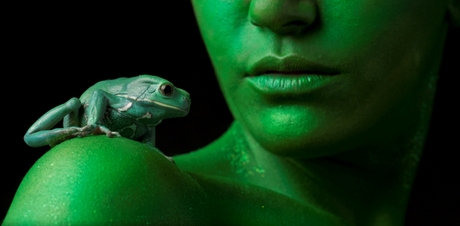 9:40 Robert Connolly
Australian filmmaker Robert Connolly (Balibo, The Bank) is the creator of Tim Winton's The Turning, a "cinema event" based on Tim Winton's best-selling 2005 short story collection, with 18 chapters interpreted by 18 different directors, and a cast that includes Cate Blanchett, Rose Byrne, and Hugo Weaving. It will screen in Auckland, Wellington and Christchurch from 7 November, with limited sessions across two weeks.
10:05 Playing Favourites with Sunny Amey
Sunny Amey was a member of the group gathered by Laurence Olivier to launch the National Theatre of Great Britain, which celebrated its 50th birthday on 22 October. She was artistic director of Downstage from 1970 to 1974; the Wellington theatre closed last month but would have celebrated the same anniversary milestone in August 2014. Sunny was Education Officer for Drama from 1975-88 in the Department of Education, and completed almost two years as Interim Director at the New Zealand Drama School, retiring in May 1991.
11:05 Elizabeth Knox
Elizabeth Knox has been a full time writer of novels, autobiographical novellas and essays since 1997, and is best known for The Vintner's Luck, and The Dreamhunter Duet (Dreamhunter and Dreamquake). In June, she published a young adult novel, Mortal Fire (Gecko Press, ISBN: 978-1-877579-53-0), and her horror novel Wake (Victoria University Press, ISBN: 978-10-86473-770-0), is published on 1 November.
11:40 Elaine Aron
American clinical psychologist Dr Elaine N. Aron has pioneered the research into highly sensitive people, and written several books on the subject including: The Highly Sensitive Person (1996), and The Highly Sensitive Child (2002). Dr Aron has been invited to New Zealand by Victoria University's School of Psychology to participate in the Interdisciplinary Conference on Intimate Relationships (1-3 November). She will present a public lecture, The Highly Sensitive Person/The Highly Sensitive Child, at The Paramount, Wellington (2 November), and co-present a workshop focused on sensitivity in the workplace, at Victoria University of Wellington (4 November).
Music played during the programme
Details of tracks and artists will be listed on the Playlist section of this page shortly following broadcast.
Studio operators
Associate producer: Melanie Phipps
Wellington engineer: Damon Taylor
Music played in this show
Playlist
Gerry and the Pacemakers: You'll Never Walk Alone
The 1963 single from the album: The Singles Plus
(EMI)
Played at around 8:50
Little Feat: Long Distance Love
From the 1975 album: The Last Record Album
(Warners)
Played at around 8:55
Elvis Costello and the Roots: Sugar Won't Work
From the 2013 album: Wise Up Ghost
Played at around 9:35
(Bluenote)
Linda Thompson: Love's For Babies and Fools
From the 2013 album: Won't Be Long Now
Played at around 11:35
(Topic)
Playing Favourites with Sunny Amey
Ronnie Ronalde: Mockingbird Hill
The 1950s single from the compilation album: The Magic of Ronnie Ronalde
(EMI)
Played at around 10:15
Noël Coward: Let's Do It
The 1955 live Las Vegas recording from the compilation album: The Noël Coward Album
(Sony)
Played at around 10:30
Bing Crosby, with the Andrews Sisters, and Vic Shoen and his Orchestra: Ac-Dent-Tchu-Ate The Positive
The 1944 recording from the compilation album: Bing Crosby's Greatest Hits
(MCA)
Played at around 10:45
Janet Baker, with the English Chamber Orchestra conducted by Raynmond Leppard: Che Farò Senza Eurydice
From the album: Gluck – Opera Arias
(Philips)
Played at around 10:55