Saturday Morning for Saturday 13 April 2013
8:15 Jonathan Freedland
Jonathan Freedland writes a weekly column for the Guardian. He is a regular contributor to the New York Times and the New York Review of Books, and presents BBC Radio 4's contemporary history series, The Long View. He will discuss the legacy of Margaret Thatcher.
8:30 Ric Esther Bienstock
Canadian filmmaker Ric Esther Bienstock is best known for her investigative documentaries, notably the Emmy Award-winning Sex Slaves, a hidden-camera investigation into the trafficking of women. She has also explored the hard core pornography industry in The Money Shot, the deadly Ebola virus in Ebola: Inside an Outbreak, and directed a three-part series on magicians and comedians Penn & Teller. Her most recent feature-length documentary, Tales From the Organ Trade, looks at the international black market trade in human organs. It screens in Auckland (14 and 19 April) and Wellington (12 and 17 May) as part of the Documentary Edge Festival.
9:05 Mary Ruefle
Mary Ruefle teaches the MFA in Writing program at Vermont College of Fine Arts and is a visiting professor at the Iowa Writers' Workshop. She has published ten books of poetry, most recently Selected Poems (2010, Wave Books, ISBN: 978-1-933-51756-8), a book of prose and a comic book. Her 2012 collection of lectures on poetry and life, Madness, Rack, and Honey (Wave Books, ISBN: 978-1-933-51757-5), was shortlisted for this year's National Book Critics' Circle Awards. Mary is visiting Wellington to hold a masterclass for MA in Creative Writing students at the International Institute of Modern Letters, and will talk to Bill Manhire in a free public lunchtime session at City Gallery Wellington on Monday 15 April.
9:45 Gill Perry
Gill Perry is a Professor of Art History at the Open University, England. She has written several books on art, and  is co-editor of a collection, Placing Faces: The Portrait and the Country House in the Long Eighteenth Century (Manchester University Press) that will be published later this year. In 2011 she curated a major exhibition The First Actresses: Nell Gwyn to Sarah Siddons at the National Portrait Gallery in London, and she is visiting New Zealand to give a free talk, Portraiture and the Feminine Face of Celebrity: The First Actresses, exploring the role of feminine portraiture in the construction of 18th century celebrity culture on 14 April in conjunction with the exhibition Angels and Aristocrats at the Auckland Art Gallery Toi o Tamaki, and at the Department of English, University of Auckland, on 15 April.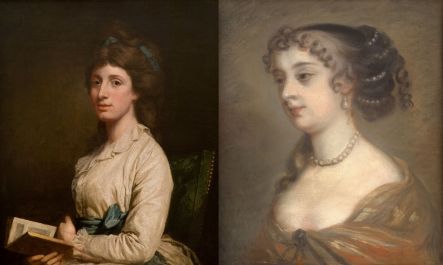 Left: Thomas Beach: Portrait of Sarah Siddons, 1782 (oil on canvas) Auckland Art Gallery Toi o Tāmaki. Purchased 1928
Right: Unknown artist (after Sir Peter Lely): Portrait of Margaret Hughes Auckland Art Gallery Toi o Tāmaki. Purchased 2012
10:05 Playing Favourites with Watermelon Slim
Singer, harmonica player and bottleneck slide guitarist Bill "Watermelon Slim" Homans has worked as a truck driver, soldier, sawmiller, firewood salesman, collection agent, funeral officiator and watermelon farmer. He is currently on tour in New Zealand, playing in Wanaka (13 April), Nelson (17 April), Motueka (18 April), Wellington (19 April), Paekakariki (20 April), New Plymouth (21 April), Palmerston North (23 April), Havelock North (24 April), Gisborne (25 April), Hamilton (27 April), and Auckland (28 April).
11:05 Anita Desai
Anita Desai has been called the greatest living Indian writer, and is the Emeritus John E. Burchard Professor of Humanities at MIT, and a Fellow of the Royal Society of Literature and the American Academy of Arts and Letters. Her novels include Fire on the Mountain (1977), In Custody (1984), and Fasting, Feasting (1999). Her latest book, The Artist of Disappearance (Vintage, 978-0-099-55395-3), is a collection of three novellas. She is a guest at two sessions (17 and 18 May) of the 2013 Auckland Writers & Readers Festival.
11:40 Ant Timpson
Ant Timpson founded the Incredibly Strange Film Festival, the Rialto Channel 48Hours Filmmaking Competition, and the Fatso 24hr Movie Marathon. He has produced a number of feature film, including The Devil Dared Me To, and How to Meet Girls From a Distance. His latest production, global anthology The ABCs of Death, became a video-on-demand hit in the United States after a successful festival run around the world. It will have its New Zealand premiere during the Autumn Events programme of the New Zealand International Film Festival, in Auckland (20 April) and Wellington (25 April).
Music played during the programme
Details of tracks and artists will be listed on the Playlist section of this page shortly following broadcast.
Studio operators
Wellington engineer: Lianne Smith
Auckland engineer: Ian Gordon
Dunedin engineer: Martin Balch
Music played in this show
Playlist
Playing Favourites with Watermelon Slim
Watermelon Slim and Steve "Guitar" Gilles: Call My Job
Performed live in the Dunedin studio of Radio New Zealand
Played at around 10:10
Frank Sinatra: That's Life
From the 1966 album: That's Life
(Reprise)
Played at around 10:25
John Lee Hooker: Hobo Blues
The 1948 single recording from the 1992 compilation album: This Is Hip
(Charly)
Played at around 10:40
Watermelon Slim: Blue Freightliner
From the 2004 album: Up Close and Personal
(Southern Artist)
Played at around 10:55