Saturday Morning for Saturday 2 June 2012
Guest details for Saturday Morning 2 June 2012
8:15 Tom Watson
Tom Watson is the MP for West Bromwich East, deputy chair of the British Labour Party, a campaigner against unlawful media practices, and co-author, with Martin Hickman, of Dial M for Murdoch: News Corporation and the Corruption of Britain (Allen Lane, ISBN 978-1-84614-604-6).
8:40 Mike Spratt
Michael F. Spratt is the proprietor and co-founder of Destiny Bay Vineyards and Winery on Waiheke Island, and a former merger and acquisition consultant and partner with PricewaterhouseCoopers and The Rubicon Group. He is the current president of the Waiheke Winegrowers Association, serves as a voting director on the board of New Zealand Wine Growers, and has just published Grape-a-hol: How Big Business is Subverting Artisan Winemaking and the Future of Fine Wine (Dog Ear Publishing, ISBN: 978-1-4575-1030-4), written with Destiny Bay Wine Imports CEO Mark Feldman.
9:05 William Tobin
Dr William Tobin lectured in physics and astronomy at the University of Canterbury for nearly two decades, and was Director of the Mount John University Observatory for several years. He now lives in France, but returns to New Zealand in association with Te Papa and the Royal Society of New Zealand, supported by HP, to give the first lecture in the Transit of Venus Lecture Series, explaining the importance to New Zealand's history of this rare celestial phenomenon (7 June, Te Papa). Dr Tobin will also speak at one of the Dark Sky events at the Adam Art Gallery  (6 June, includes a viewing), and at the New Zealand International Starlight Conference at Lake Tekapo (10-12 June), a gathering of international astronomers.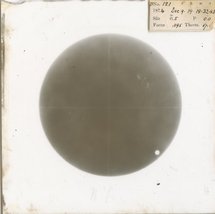 Glass photographic plates of the Transit of Venus taken in 1874 by the British expedition based at Burnham, near Christchurch. Plate scans provided by the UK Science and Technology Facilities Council (STFC), and identified by Jessica Ratcliff (author of The Transit of Venus Enterprise in Victorian Britain).
9:40 Thomas Lumley
Professor Thomas Lumley spent 12 years in the Department of Biostatistics at the University of Washington, and remains an affiliate professor there while based at the Department of Statistics at the University of Auckland. He has just returned to New Zealand from the landmark meeting of the CHARGE Consortium in Iceland, discussing how genetic variants affect biology and health. He also writes for the educational blog, statschat.org.nz.
10:05 Playing Favourites with Hamish Clayton
Hamish Clayton is completing his PhD at Victoria University on the New Zealand writer David Ballantyne (author of the 1968 novel Sydney Bridge Upside Down), after completing his MA on Hicksville, the graphic novel by Dylan Horrocks. Hamish's debut novel, Wulf (Penguin, ISBN 978-0-14-320649-1), mixes nineteenth-century New Zealand history with a cryptic tenth-century British poem, and is the winner of the NZSA Best First Book Award for Fiction at the 2012 NZ Post Book Awards.
11:05 Ashraf Sewailam
Egyptian bass-baritone Ashraf Sewailam is an in-house soloist with the Cairo Opera Company and has performed with a number of US opera companies. He sings the role of Sparafucile in the NZ Opera production of Rigoletto, which plays in Auckland on 7, 9, 13, 15 and 17 June.
11:45 Children's Books with Kate De Goldi
New Zealand writer Kate De Goldi is the author of a number of books, including the multi-award winning novel, The 10pm Question. She will discuss two novels and an ABC book:
The Fault in Our Stars, by John Green (Penguin ISBN: 978-0-14-356759-2);
Wonder, by RJ Palacio (Random House, ISBN: 978-0-370-33229-1); and
A Long Piece of String, by William Wondriska (Chronicle Books, ISBN: 978-0-8118-7493-9)
Music played during the programme
Playing Favourites with Hamish Clayton
Radiohead: Airbag
From the 1997 album: OK Computer
(Parlophone)
Played at around 10:20
David Bowie: Sound and Vision
From the 1977 album: Low
(RCA)
Played at around 10:35
The Mutton Birds: A Thing Well Made
From the 1992 album: The Mutton Birds
(Bag)
Played at around 10:45
Dirty Three: Some Things I Just Don't Want To Know
From the 2000 album: Whatever You Love, You Are
(Touch & Go)
Played at around 10:55
Studio operators
Wellington engineer: Carol Jones
Auckland engineer: Ian Gordon