Saturday Morning for Saturday 11 June 2011
Guest details for Saturday Morning 11 June 2011
8:15 Ibrahim Elmetri
Ibrahim Elmetri grew up in Tripoli, Libya, and now works as an international aquatic sciences consultant.
8:30 Geraldine Brooks
Australian author and journalist Geraldine Brooks was a reporter for The Sydney Morning Herald, and covered the Middle East, Africa, and the Balkans for the Wall Street Journal, before publishing her non-fiction works Nine Parts of Desire (1994), and Foreign Correspondence (1997). Her subsequent novels include Year of Wonders (2001), March (which won the 2006 Pulitzer Prize), and People of the Book (2008). Her new novel, Caleb's Crossing (Fourth Estate, ISBN: 978-0-7322-8922-5), is based on the life of the first Native American to graduate from Harvard College, in 1665.
9:05 Cornel de Ronde
Cornel de Ronde is a principal scientist with GNS Science, Te Pu Ao, and is the project leader of the team that has been 3D mapping the bottom of Lake Rotomahana, near Rotorua. In February, they found part of the Pink Terraces sitting on the lake floor, and have just announced the discovery of part of the White Terraces, also thought to have been destroyed during the eruption of Mt Tarawera on 10 June 1886. You can see a sonar image, and video, on the GNS website, here.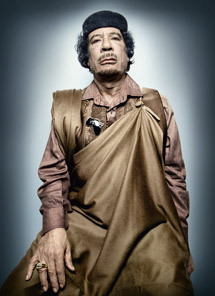 Muammar Quaddafi, photographed by Platon, from the book Power.
9:20 Platon
Platon is staff photographer for The New Yorker magazine, and has contributed to a large range of international publications including TIME, Vanity Fair, Esquire, Rolling Stone and the New York Times Magazine. His new book, Power (PQ Blackwell/Hachette, ISBN: 978-0-73362-772-9) is a collection of portraits of over 100 presidents, prime ministers, dictators and revolutionaries from across the globe.
10:05 Playing Favourites with Doug Jerebine
Doug Jerebine played guitar in the 1960s with New Zealand acts The Embers, Tommy Adderley, Dinah Lee, the Brew and The Human Instinct, and on dozens of pop recordings. After relocating to London and coming close to scoring a recording deal, he left the industry to pursue life as a high-ranking Krishna monk for the next 30 years. Doug is now based in the UK, but frequently returns to New Zealand to play with old friends and a new generation of musicians. His 1969 'lost" album, Jesse Harper, will receive an official release later this year on US label Drag City.
11:05 Martin Nowak
Martin Nowak is Professor of Biology and Mathematics at Harvard University, and has been widely praised for revolutionising the mathematical approach to biology. He is the co-author, with New Scientist editor Roger Highfield, of the new book, Super Cooperators: Evolution, Altruism and Human Behaviour (or Why We Need Each Other to Succeed), Text Publishing, ISBN: 978-1-921758-29-4).
11:35 Douglas Lloyd Jenkins
Douglas Lloyd Jenkins is Director of the Hawke's Bay Museum & Art Gallery. He is one of New Zealand's best-known and respected design writers, with columns in the New Zealand Herald, New Zealand Listener, Home & Entertaining, and a presenting role on the TVNZ programme, The Big Art Trip. His latest book, The Dress Circle: New Zealand Fashion Design Since 1940, written with Claire Regnault and Lucy Hammonds (Godwit, ISBN: 978-1-86962-181-0) is a finalist in the Illustrated Non-Fiction category in the 2011 NZ Post Book Awards.
Music played during the programme
Doug Jerebine: improvised  sitar piece
Live from the Radio New Zealand Auckland studio
Played at around 10:05
The Embers: Metropolis
The 1964 single
(Viking Records)
Played at around 10:15
Tommy Adderley: Mr Jinx
The 1965 single
(Zodiac)
Played at around 10:25
The Chicks: The Rebel Kind
The 1966 single from the 1995 compilation: Wild  Things Volume 2
(Zero)
Played at around 10:35
Doug Jerebine: Keep Cool
From the 1969 'lost" album: Jesse Harper
(upcoming release on Drag City Records)
Played at around 10:40
Royal Concertbegouw Orchestra conducted by Riccardo Chailly: Mahler Symphony No.3 in D Minor (excerpt of first movement)
From the 2004 album: Mahler 3 / Bach Suite
(Decca)
Played at around 11:30
Studio operators
Wellington engineer: Andrew Dalziel
Auckland engineer: Jeremy Ansell