Saturday Morning for Saturday 30 April 2011
Guest details for Saturday Morning 30 April 2011
8:15 Harriet Lamb
Harriet Lamb has been Chief Executive Officer of the Fairtrade Foundation since 2001, and is the author of Fighting the Banana Wars and other Fairtrade Battles (Rider Books, ISBN: 978-1-846-04084-9). Fairtrade Fortnight begins on 7 May, and Harriet will visit New Zealand between 20 and 24 June in association with Fairtrade New Zealand.
9:05 Mandrika Rupa
Mandrika Rupa is the director of the independent New Zealand documentary film Hidden Apartheid: A Report on Caste Discrimination, currently screening at the Bridgeway Cinema in Auckland (to 20 May).
9:45 Kevin Parker
Dr Kevin Parker is a biologist at the Institute of Natural Sciences, Massey University. He has been involved in 25 native bird translocations in his time as a researcher, all in collaboration with the Auckland Council, DOC and community conservation groups. His PhD research shows how saddlebacks have developed diverse dialects following translocations to 12 different islands over the past 50 years.
10:05 Playing (Country) Favourites with John Newton
Dr John Newton is visiting researcher at the Stout Centre, Victoria University, and was the JD Stout Fellow 2010, where he conducted research for a book about immigration to New Zealand at the time of World War II. He is the author of The Double Rainbow: James K. Baxter, Ngati Hau and the Jerusalem Commune (2009, Victoria University Press, ISBN: 780864-736031), and the poetry collection Lives of the Poets (Victoria University Press, ISBN: ISBN 9780864736284). John is singer, songwriter and guitarist for Wellington/Christchurch alt-country band, The Tenderizers.
11:05 Dane Mitchell
Dane Mitchell is one of New Zealand's most prominent artists internationally. From October through December 2010 he was New Zealand Artist in Residence at the Govett-Brewster Art Gallery in New Plymouth, where his exhibition, Radiant Matter Part 1, shows the sculptural possibilities of sea spray, perfume and vapour in their various states, and means of containing, diffusing and releasing these into the air (to 29 May). Dane is currently Dunedin Public Art Gallery/Creative New Zealand Visiting Artist in Residence for 2011, where he is working on Radiant Matter Part 2, continuing his exploration of ways of making the intangible tangible. The final exhibition of the three-part solo project will show at Artspace in Auckland from early July.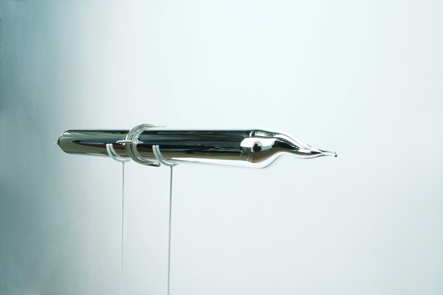 Dane Mitchell: Your Memory of Rain Encased (UV Release)
2010 (installation view). UV-release encapsulated perfume, glass, silver nitrate, silicon, springs.
Courtesy the artist and Govett-Brewster Art Gallery. Photo by Bryan James.
Dane Mitchell, studio view
Govett-Brewster Art Gallery, New Plymouth, New Zealand.
Photo: Bruce Foster, commissioned by Australian Art Collector.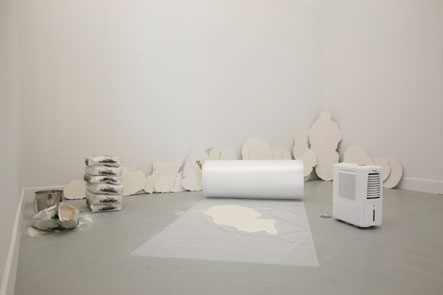 Dane Mitchell: Various Solid States 2010/2011 (installation view).
De-humidifier, water, plaster, aluminium, bubble-wrap, sieve.
Courtesy the artist and Govett-Brewster Art Gallery. Photo by Bryan James.
11:40 Rugby with Spiro Zavos
Spiro Zavos writes a rugby column for The Sydney Morning Herald and the interactive sports opinon website The Roar, and has written six books on rugby, most recently How to Watch the Rugby World Cup 2011 (Awa Press, ISBN: 978-1-877551-09-3). In September, he will be a guest of the Going West Books and Writers Festival in Titirangi.
Music played during the programme
K.D.Lang & the Siss Boom Bang: Heaven
From the 2011 album: Sing It Loud
(Nonesuch)
Played at around 8:55
Paul Simon: Dazzling Blue
From the 2011 album: So Beautiful or So What
(Universal)
Played at around 11:35
Playing (Country) Favourites with John Newton
The Tenderizers: Heartache and Sorrow
From the 2011 album: Love Me Tender
(Lefthand Gun)
Played at around 10:05
Gram Parsons: Return of the Grievous Angel
From the 1974 album: Grievous Angel
(Reprise)
Played at around 10:20
Topp Twins: Calf Club Day
From the 1994 album: Two Timing
(Global Routes)
Played at around 10:40
The Louvin Brothers:Satan's Jewelled Crown
From the 1959 album: Satan is Real
(Capitol)
Played at around 10:45
David Rawlings Machine: Ruby
From the 2009 album: A Friend of a Friend
(Acony)
Played at around 10:55
Studio operators
Wellington engineer: Chris Adams
Auckland engineer: Jeremy Ansell
Dunedin engineer: Sandy Sullivan