Saturday Morning for Saturday 2 October 2010
Guest details for Saturday Morning 2 October 2010
8:15 Richard Wolff
Richard Wolff is professor emeritus of economics at the University of Massachusetts, visiting professor in the Graduate Program for International Affairs at the New School University in New York City, and author of a number of books, most recently Capitalism Hits the Fan: The Global Economic Meltdown and What to Do About It (Olive Branch Press, ISBN: 978-156656-784-8). He was recently in Europe, observing unprecedented trade union unity and activity.
8:30 Cordelia Fine
Psychologist and writer Cordelia Fine is the author of the 2007 book, A Mind of Its Own: How Your Brain Distorts and Deceives. Her new book is Delusions of Gender: How Our Minds, Society, and Neurosexism Create Difference (Icon Books, ISBN: 978-184831-201-2). During the interview, reference was made to The Male Brain by Louann Brizendine (Bantam Press, ISBN: 978-0-593-06454-2), her follow-up to The Female Brain.
9:05 Jesse Conklin
Jesse R Conklin works in the Ecology Group, Institute of Natural Resources, at Massey University. He spent two years studying godwits in the Alaskan tundra during their breeding period, and is now observing godwits he tagged with geo-locators that are returning from Alaska to a small site-faithful flock on the Manawatu River at Foxton.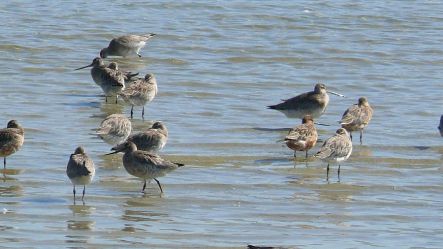 Godwits resting at Harwood, Otago Peninsula. Photo: Robin Gledhill
9:45 Kate's Klassic
Kate Camp will discuss the 1897 novel The Invisible Man by H. G. Wells (Penguin Classics, ISBN: 978-0-14-143998-3).
10:05 Playing Favourites with Mike Nock and Norman Meehan
New Zealand pianist Mike Nock played rock'n'roll in the 1950s and 60s before winning a scholarship to the Berklee jazz school in Boston. He is internationally renowned for his performances, compositions and recordings. Fellow jazz pianist and composer Norman Meehan is senior lecturer in jazz at the New Zealand School of Music, and author of Serious Fun: the Life and Music of Mike Nock (Victoria University Press, ISBN: 978-0-86473-636-9).
11:10 Dean Poole
Dean Poole is one of New Zealand's most influential designers. He is the creative director of Alt Group, which has won over 160 national and international design awards since 2005, including 18 design prizes - the most of any company - at this year's Best Design Awards. Dean also won this year's John Britten Black Pin, the highest award given by the Designers Institute, celebrating an individual who has achieved significant success in the field of design both nationally and internationally. Dean will be a keynote speaker at the International Council of Graphic Design Associations 2010 conference in Brisbane, as part of ICOGRADA Design Week (11-17 October).
11:40 John Saker
John Saker is a freelance writer and author whose work has appeared in the New Zealand Listener, North & South, National Business Review, and Cuisine. He is the author of the 2005 book, How to Drink a Glass of Wine (Awa Press), and his new title, Pinot Noir: the New Zealand Story (Random House, ISBN: 978-1-86979-279-4), has just been published.
Music played during the programme
Laughton Pattrick and Jenny Pattrick: The Godwit Ballad
From the CD accompanying the book: The Very Important Godwit
(Random House, ISBN: 978-1-86979-348-7)
Played at around 9:05
Andreya Triana: Draw the Stars
From the 2010 album: Lost Where I Belong
(Ninja Tune)
Played at around 11:05
Playing Favourites with Mike Nock and Norman Meehan
Mike Nock Project: Meeting of the Waters
From the 2007 album: Meeting of the Waters
(Jazzhead)
Played at around 10:10
Elis Regina: Waters of March
From the 1974 album: Elis and Tom
(Philips)
Played at around 10:25
Elvis Costello: Full Force Gale
From the 1994 album: No Prima Donna: The Songs of Van Morrison
(Exile/Polydor)
Played at around 10:35
Norman Meehan and Bill Manhire: Pacific Raft
From the 2010 album: Buddhist Rain
(Rattle)
Played at around 10:55
Studio operators
Wellington engineer: Lianne Smith
Auckland engineer: Jeremy Ansell