Saturday Morning for Saturday 21 June 2008
Guest details for Saturday 21 June 2008
8:12 Jim Lindner
James Lindner, an internationally respected authority on the preservation and migration of electronic media, is the founder and CEO of SAMMA Systems (the System for the Automated Migration of Media Assets) in New York, and senior media preservation and technology consultant to the audio-visual consulting company Media Matters. He has lectured widely and written about media preservation for the past fifteen years, and is in New Zealand to work with the New Zealand Film Archive.
8:35 Brian Taaffe
Dr Brian Taaffe spent his early years in Hawke's Bay, and now works from Melbourne as a corporate identity strategist and researcher, specialising in the banking sector. He is the author of The Gatekeepers of Galatos: The Untold Story (Sabicas, ISBN: 0-646-45735-7), about the World War Two unit in Crete, of which his father was a member: the New Zealand Divisional Petrol Company.
9:05 Chris Brickell
Chris Brickell is a senior lecturer in Gender Studies at the University of Otago. His first book is the first-ever New Zealand gay male history: Mates & Lovers (Godwit, ISBN: 978-1-86962-134-6).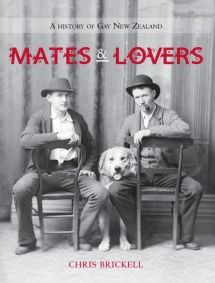 9:45 Scotty Morrison
In late July, Scotty Morrison will join a group of 40 people from around the world invited to discuss biculturalism at the Oxford Round Table conference in the U.K, and present a paper that considers how the wording of the 1987 Maori Language Act shaped the relationship between Maori and Pakeha. He received the title of adjunct professor at Unitec last year in recognition of his expertise in teaching Maori language and tikanga.
10:05 Anna Rugis
New Zealand singer and poet Anna Rugis had an international career as a backing singer for (among others) Cat Stevens, the Kinks, and Van Morrison, and has released three solo albums. The first two, Reconciliation (1996) and Cave Songs (2003), were recently reissued by Ode Records. Her new album, Traffic in Gold (Redear/ Ode Records) features contemporary songs in the style of port a'bial music from the Hebridean Islands, and she used an EIF grant to record two environmental musicals for primary schools. Anna is currently performing Chanson, featuring Parisian and original songs, written for Linn Lorkin, and will present a poetry and music event at the Auckland Art Gallery for Montana Poetry Day on 18 July.
10:45 Roi Colbert
Roi Colbert has been writing about sport and music since the 1960s. He is a former cricket writer and sports editor of the Dunedin Evening Star, and currently writes a monthly golf column for The Cut. He has been writing about and reviewing television for the Sunday Star Times for the past year, and contributes to a number of magazines on a variety of topics.
11:05 Ruth DeSouza
Ruth DeSouza is a senior research fellow at AUT University with a passionate interest in issues relating to migrants and refugees and their incorporation and engagement in a bicultural society. She co-ordinates the Centre for Asian and Migrant Health Research, is the programme leader for the new Graduate Diploma in Addictions, and is completing a PhD about the discursive constructions of migrant motherhood. Ruth is also a board member of the Counties Manukau District Health Board, and the Asia New Zealand Foundation, and secretary of the Refugee Council of New Zealand.
11:30 Sima Urale and Shuchi Kothari
Award-winning writer and director Sima Urale was born in Samoa and immigrated with her family to New Zealand in 1974. Her short films as a director include O Tamaiti, Velvet Dreams and Still Life.
Shuchi Kothari is senior lecturer in the Department of Film, Television, and Media Studies at the University of Auckland. She has produced and directed a number of film projects through her company, Nomadz Unlimited, including Clean Linen and A Taste of Place.
Sima is the director of the new feature Apron Strings, written by Dianne Taylor and Shuchi, who also co-produced with Rachel Gardner. The collaborative project is set in South Auckland, and traces the parallel domestic dramas in the lives of two families of cooks (one Sikh, the other Anglo). It will have its world premiere at the 2008 New Zealand International Film Festivals in July. Watch the trailer here.
Also screening at the Festivals, in Homegrown Programme 1, is the short film Coffee & Allah, written and produced by Shuchi and directed by Sima.
Music played on the programme
Daphne Walker: Land of the Long White Cloud
From the compilation album: Golden Hits of Daphne Walker
(Viking)
Played at around 9:40am
Composed by New Zealand songwriter Sam Freedman, who passed away earlier this month.
Anna Rugis: Horo Haradel
Live in the Auckland studio of Radio New Zealand
Played at around 10:10am
Anna Rugis: Love Song
From her 2008 album: Traffic in Gold
(Readear/Ode)
Played at around 10:20am
Cat Stevens: Peace Train (live)
Played at around 10:35am
Windy City Strugglers: Divided World
From the 2008 album: Shine On
(Red Rocks)
Played at around 11:10am
Studio operators
Wellington engineer: Damon Taylor
Auckland engineer: Jeremy Ansell
Dunedin engineer: Rod Morgan