Saturday Morning for Saturday 12 April 2008
Saturday Morning guests for 12 April 2008
8:12 Foreign Correspondent: Jill Worrall in Bhutan
Jill Worrall is one of New Zealand's leading travel writers, with a particular passion for South and Central Asia. She has lived and worked in Pakistan, and made multiple trips to India, Sri Lanka, Bhutan and Uzbekistan, as well as visiting Nepal, Turkmenistan, Iran, Georgia and Armenia. She is currently in Bhutan, where the first elections for a democratically elected parliament were recently held.
8:25 Janna Levin
Janna Levin is a Professor of Physics and Astronomy at Barnard College of Columbia University in New York. Her scientific research concerns the early universe, chaos, and black holes. Her debut novel, A Madman Dreams of Turing Machines (Weidenfeld & Nicholson, ISBN-13: 978-0-297-64546-7), fictionalises and intertwines the lives of mathematical logician Kurt Godel and Alan Turing, the father of modern computing.
9:05 Joanna Woods
Joanna Woods completed her PhD from Moscow University in 1997, and embarked on her first biography, The Commissioner's Daughter: The Story of Elizabeth Proby and Admiral Chichagov (Stonesfield Press), which was closely followed by Katerina: the Russian World of Katherine Mansfield (Penguin). Joanna was awarded the National Library Research Fellowship in 2005, which enabled her to undertake the research for her new book, Facing the Music: Charles Baeyertz and the Triad (Otago University Press, ISBN: 978-1-877-372-55-1).
9:40 Eric Arnold
Eric Arnold was born and raised in New Jersey. He had no interest in wine until he passed through Marlborough on vacation in 2001. His dissatisfaction with wine writing prompted him to persuade Allan Scott to allow him to stay at his winery and learn how to make wine, a story he tells in First Big Crush (Scribner, ISBN13:9781416537694). Eric recently left the Wine Spectator for the position of lifestyle editor at Forbes.
10:05 Suzi Quatro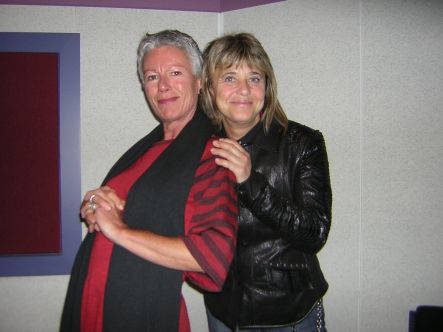 Born in Detroit, Suzi Quatro moved to London in 1971 to work with producer Mickie Most. After her second single, Can the Can, hit Number One, she had a string of major hits in the UK and Europe. In the United States, she is best known for her role as Leather Tuscadero on the TV programme Happy Days, and she continues to make television appearances, as well as presenting a radio show for BBC2. Suzi played two New Zealand concerts this week, and recently published her autobiography, Unzipped (Hodder & Stoughton, ISBN: 9780340937495).
10:45 Greg Broadmore
Weta Workshop conceptual designer Greg Broadmore has illustrated over 30 children's stories and books. He is the author and illustrator of Doctor Grordbort's Contrapulatronic Dingus Directory (Weta Publishing/Dark Horse Comics, ISBN 978-1-59307-876-8), which includes details of some of the 1:1 scale antique-styled sci-fi hand weapon props he designed for the series of Weta Originals Rayguns. Greg co-designed and oversaw the art direction of the six-metre tall robotic sculpture tribute to the New Zealand screen production in Wellington's Courtenay Place, as well as the Riff-Raff Richard O'Brien tribute sculpture in Hamilton.
11:05 Janice Marriott and Virginia Pawsey
Janice Marriott has written many novels and non-fiction books for children. Occupational therapist Virginia Pawsey lost her son in the 1995 Cave Creek tragedy, and now runs a farm in Hawarden, Canterbury, with her husband. After not seeing each other for nearly 40 years, Janice and Virginia met at a school reunion and rekindled their friendship. The resulting series of letters, following the course of their gardens and lives during a year, has just been published as Common Ground (HarperCollins, ISBN: 978-1-86950-680-3).
11:45 Children's Books with Kate de Goldi
Kate will talk about the Little House series by Laura Ingalls Wilder, a distinctly American take on the family story. These include Little House in the Big Woods (from 1932), By the Shores of Silver Lake (1939), The Long Winter (1940), and Little Town on the Prairie (1941).
Music played on the programme
Suzi Quatro: Devil Gate Drive
The 1974 single
(RAK)
Tom Waits: What's He Builing
From the 1999 album: Mule Variations
(Shock)
Wellington engineer: Nick Chave
Christchurch engineer: David McMartin