The frontage of Carlton House in the time of George IV.
On 13 November 1820, two tall, tattooed Maori chiefs arrived at Carlton House in London to meet King George IV. Passing through the portico of Ionic columns in front of the opulent town house, they entered the central hall with its double staircase and octagonal skylight, and a series of gilded, lavishly-decorated state apartments.
When Hongi Hika and Waikato (dressed in European court costume but with flax cloaks across their shoulders) were introduced to the king, they bowed gracefully, laying their cloaks before him and saying "How d'ye do, Mr King George."
Intrigued by his exotic visitors, George accepted their gifts and arm in arm, escorted them around Carlton House, showing them its magnificent art collection, conservatory and gardens. As they walked, he quizzed them about their home country and customs, asking "How many wives each of them had? How did they rule them etc, etc," and was highly pleased with their answers.
A noted warrior, Hongi was entranced by the visit to the Royal Armoury, and George's gift of a coat of chain mail, a helmet and two muskets. Asked if he had told the missionaries in New Zealand not to supply him with muskets and powder, the King assured him that no such order had been given, and that he did not know Marsden or the other Englishmen with whom the Maori had up until then had most of their dealings.
These exchanges formed a turning point in Hongi's relationship with the Europeans and the Church Missionary Society venture back home. He now knew that despite being urged by Marsden to give up his many wives, the King had his own mistresses and was trying to divorce Queen Caroline. While the missionaries urged him to stop fighting, the United Kingdom had been at war non-stop for almost a century on a variety of military campaigns.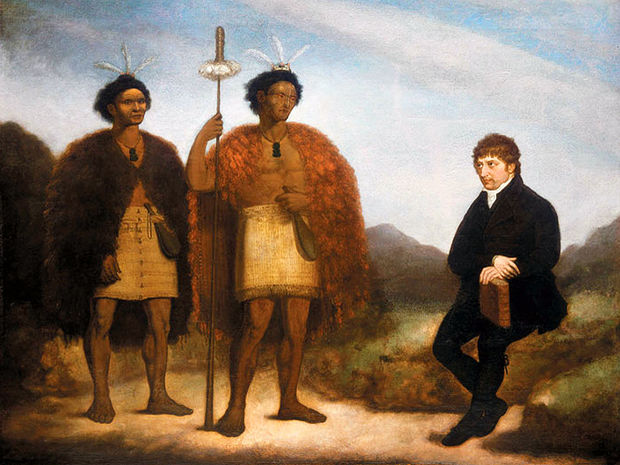 Chiefs Waikato and Hongi Hika (centre) with Thomas Kendall in England, painted by James Barry, 1820. Alexander Turnbull Library Ref:G-618.
On his return to New Zealand Hongi Hika spurned contact with most of the missionaries, set about acquiring muskets which would help him dominate the other iwi with which he was in dispute, and became even more determined to exercise himself the kingitanga or sovereignty he had seen in action while in England.
This story opens the third of the 2014 Rutherford Lectures, in which Dame Anne Salmond explores the intertwined themes of the life of people and the exercise of power.
The 2014 Rutherford Lectures: People and Power will be broadcast on Radio New Zealand National at 4pm on Sunday 21 December, repeated at 9pm on Tuesday 23 December 2014.
Or listen here, now: