Our Changing World for Thursday 21 November 2013
Using Algae to Harvest Phosphorus from Effluent
Nicola Brown and Andy Shilton next to a small effluent treatment pond that serves a small Manawatu community, and Nicola in the lab with a flask of algae that is performing well at absorbing phosphorus (images: A. Ballance)
The world is running out of terrestrial phosphorus (Peak Phosphorus), which is an essential nutrient for plants and animals, while at the same time large amounts of it are polluting waterways.
Andy Shilton and Nicola Brown are environmental engineers at Massey University, and they tell Alison Ballance how they are working on a Marsden-funded project that might eventually be able to solve both problems, by using algae to extract phosphate that's currently 'lost' in effluent treatment ponds and sent to landfill. At this first stage they are working out which kind of algae accumulate the most phosphorus, and under which kind of light and temperature conditions. Australian farmers recently called for more research into this area.
Mapping Soils
From left to right: Leo Valette, Craig Ross, Ruth Beran, Pierre Goovaerts and Pierre Roudier. Image at right: Pierre Roudier with the mobile spectroscopy equipment (images: Teresa Albuquerque)
In Palmerston North, Landcare Research scientists are using mobile spectroscopy to analyse soils. Soil characteristics such as the amount of carbon in the soil are then used to help farmers and decision makers use this precious resource.
On Massey No. 1 Dairy Farm, Ruth Beran met Craig Ross, a soil scientist and pedologist, Pierre Roudier, who conducts quantitative analysis of soil data and spatial modelling, and Leo Valette, a MSc student who has been working on the interface between pedology, sensors and soil mapping.
Each explained how soils can be analysed, by using visual, textural and spectroscopy techniques.
Pierre Goovaerts, from BioMedware, explained how the complex mathematical theory of geostatistics is being used to better understand soil science and create better soil maps. You can view a New Zealand soil map here.
Pilot Food Processing Plant
Horticulture is an important industry in New Zealand, but researchers are hoping to add more value by using processing waste such as apple and kiwifruit skins to extract beneficial bioactive compounds that can then be used in the development of nutraceuticals and better value foods. Zaid Saleh holds a joint position with Plant and Food Research and the University of Auckland, and he shows Alison Ballance around a pilot food processing plant that has been set up to produce modest amounts of product that can be tested and then used in clinical trials.
High-tech Collaboration in Robotics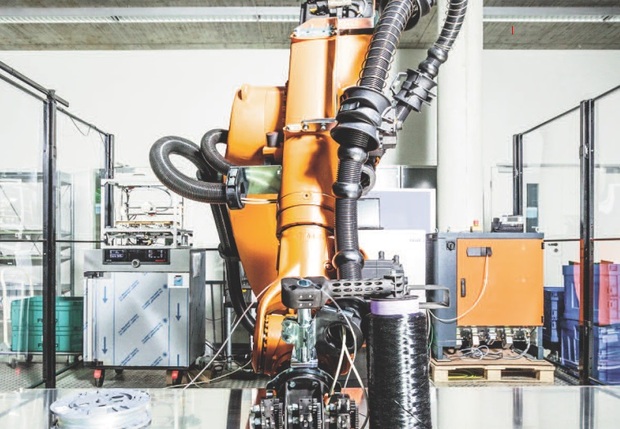 This 3D fibre printer is used at the Faunhofer Institute for manufacturing, engineering and automation in Stuttgart.
This year marks the 60th anniversary of bilateral relationships between New Zealand and Germany, a connection which has resulted in many long-standing scientific collaborations. One of them, a joint effort between the University of Auckland's faculty of engineering and the Fraunhofer Institute for manufacturing, engineering and automation (Fraunhofer IPA), is focusing on advanced mechatronics and biomedical engineering.
The Auckland team, led by Peter Xu, has already developed robots that mimic the processes of chewing and swallowing. They are being used to develop and test new food textures and to measure changes during mastication. While a small start-up company is marketing the robot in New Zealand, the Fraunhofer Institute wants to extend its use to dentistry, applying the same machine to test dental implants and to monitor wear in artificial tooth material.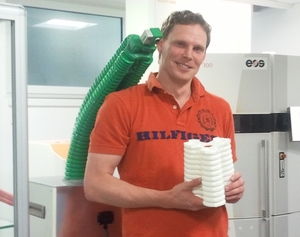 Alexander Verl is a director of the Fraunhofer IPA, which recently won the German future technology award for its flexible 'elephant-trunk' robotic arm and its application in the manufacturing industry. The low-cost technology is produced by 3D-printing, as demonstrated on the left by the Franhofer IPA's group manager for additive manufacturing Steve Rommel, and could also find a market niche in New Zealand as a fruit-picking robot.
The joint effort builds on the long-standing collaboration and exchange between the two team leaders. Professor Xu has worked in Germany as a Alexander von Humboldt Foundation fellow, and Professor Verl is the first engineer to have received the New Zealand Royal Society's Julius von Haast Fellowship Award.