Our Changing World for Thursday 14 November 2013
PM's Science Prize Awards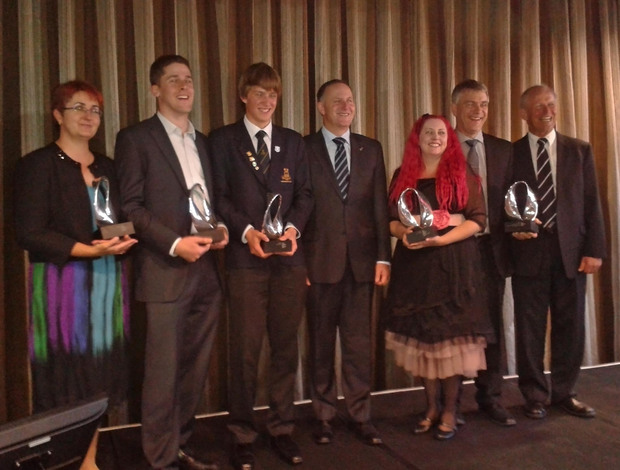 The winners of the 2013 PM's Science Prizes are, from left to right, Fenella Colyer, head of physics at Manurewa High School (Science Teacher Prize), Benjamin O'Brien, CEO of StretchSense Ltd (MacDiarmid Emerging Scientist Prize), Tom Morgan, a Year 13 student at Marlborough Boys' College (Future Scientist Prize), Prime Minister John Key, University of Auckland microbiologist Siouxsie Wiles (Science Media Communication Prize), and the winners of the top award, Grant Covic and John Boys, both from the University of Auckland. (image: V Meduna) 
This week, the president of the Royal Society of New Zealand, David Skegg, announced the winners of the PM's Science Prizes. Two University of Auckland engineers, Grant Covic and John Boys, received the $500,000 top award for developing a wireless power transfer system.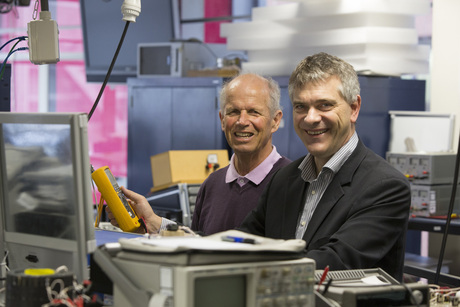 For nearly three decades, the pair have been pioneering inductive power transfer technology, or IPT. Often told that their idea for transferring electricity without cables was both impossible and crazy, they left many early funding meetings empty-handed. But they refused to let initial scepticism put them off and, in 1990, Japanese company Daifuku took a chance and invested significantly in their research, which is licensed through the university's commercial arm, Auckland UniServices Ltd.
With IPT, electrical power can be delivered without electrical contact to stationary or moving loads.The first solutions were applied to industrial applications for moving vehicles in factory clean rooms, industrial plants and in theme parks. More recently the pair's technology has been re-developed to enable battery charging of electric vehicles without the need to plug in. In May 2010, the spin-out company HaloIPT began developing the technology further for electric vehicles and, in late 2011, it was sold to Qualcomm, a United States Fortune 500 company.
The resulting return to Auckland Uniservices is more than 50 times the original pre-seed investment and it is believed to be the most successful deal for any New Zealand university or crown research institute start-up company. The next frontier for the engineers is to develop in-road wireless charging, eliminating the need for plug-in battery chargers and enabling cars to recharge as they travel along highways. They aim to lower the cost and battery weight, increase the power and make cars more efficient while using green energy, such as solar or wind.
University of Auckland microbiologist Siouxsie Wiles has won the Science Media Communication Prize for her role as a commentator on a wide range of scientific issues, including aspects of the recent Fonterra botulism scare, as well as for communicating her own research interests through animated videos.
Auckland Bioengineering Institute scientist and CEO at StretchSense Ltd Ben O'Brien won the MacDiarmid Emerging Scientist Prize to further his development of small, soft, stretchy sensors that can measure movement of the human body and transmit the information to an app.
Fenella Colyer, head of physics at South Auckland's Manurewa High School, won the Science Teacher Prize in recognition of being the driving force behind a 30 per cent increase in the past two years in the number of Maori and Pasifika students studying physics.
And Thomas Morgan, of Marlborough Boys' College in Blenheim, won the Future Scientist Prize for a detailed project showing oyster mushrooms have the potential to be enriched with Vitamin D when exposed to ultraviolet light.
Organic LEDs

From left to right: a blue-emitting OLED and Rebecca Sutton (images: Baptiste Auguie and Woolf photography)
Light emitting diodes or LEDs are found in digital clocks, TVs and traffic lights -- but they are brittle. Organic LEDs use thin films instead of crystalline layers, so they are thinner and lighter and can be made to bend or flex.
Rebecca Sutton is a Masters student at Victoria University and she's studying what happens to blue organic LEDs (OLEDs) as they degrade. She's particularly interested in blue-emitting OLEDs because they degrade faster than other OLEDs, such as red ones. As part of her Masters project she developed a procedure for making blue-emitting OLEDs and then studied how they degrade during operation (they are sensitive to oxygen and water and so don't emit light for very long when they have been exposed to air). The technique used to do this is electron paramagnetic (=spin) resonance. This technique is similar to NMR (like that used to conduct MRI scans) but looks at the electrons rather than the nuclei. She found some evidence of chemical reactions occurring while the OLEDs was emitting light. Rebecca shows Ruth Beran how she makes OLEDs and demonstrates how they emit light.
Rebecca's Masters project was funded by Victoria University and the MacDiarmid Institute of Advanced Materials and Nanotechnology, and her supervisors were Andy Edgar and Natalie Plank.
Kakariki at Zealandia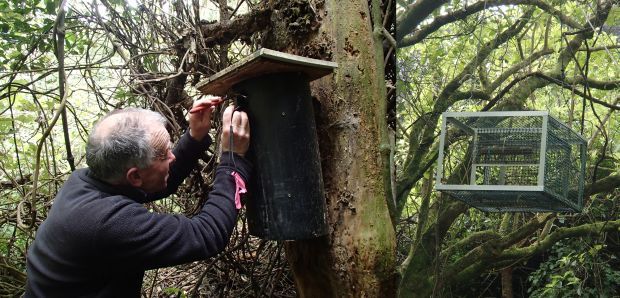 Richard Gray uses a mirror and torch to check on kakariki chicks in an artificial nest box (eft), and a kakariki feeding station hung up in a tree (images: A. Ballance)
Chatty and brightly-coloured, kakariki or red-crowned parakeets are a familiar sight on predator-free islands. But these days they're pretty rare on mainland New Zealand – and absent from our towns and cities.
However, they've recently been given a hand to take up residence in central Wellington, and to find out how these rare birds are enjoying city living Alison Ballance joins conservation officer Richard Gray behind-the-scenes at the Zealandia sanctuary.
Kakariki were introduced to Zealandia from Kapiti Island in 2010, and began breeding within a few months of arriving. Several of the translocated birds bred with unbanded female birds that are suspected to have come from Matiu-Somes Island in Wellington Harbour, where there is another thriving translocated population.
Richard shows Alison how feeding millet is a good way to monitor the birds, shows her a natural nest excavated in a cavity in a rotten log, and then gives her a peek into an artificial nest box made of black plastic pipe where one of the first clutches of the season is two-weeks old and just beginning to grow their distinctive emerald-coloured feathers.