Our Changing World for Thursday 20 December 2012
Transit of Venus Poetry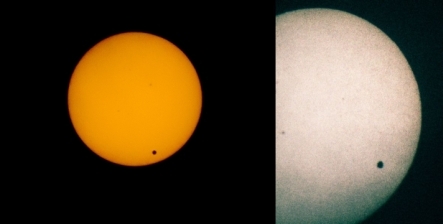 In June, hundreds of people gathered in Tolaga Bay to observe the planet Venus as she moved across the face of the sun. Among them were poets Chris Price, Hinemoana Baker and Glenn Colquhoun and three German poets, who were all asked to write poems inspired by the transit and to collaborate on translations of their work into each other's language. Three poems from the New Zealand team feature on our programme this week, but you also can read and listen to more poetry written as a result of this collaboration here.
You can also listen to our special programme about the Transit of Venus.
2012 Story Updates
Great White Sharks Follow-Up
In March Alison Ballance joined Malcolm Francis from NIWA and Clinton Duffy from the Department of Conservation on their annual great white shark tagging trip to Stewart Island. Satellite tagging has shown that each winter the sharks migrate to the tropics, returning in summer to hang out' near seal colonies around Stewart Island. Acoustic tags are now revealing more about how sharks move around the local area, and Alison catches up with Malcolm to find out what the 20 acoustic tags and 5 pop-up archival tags deployed this year have revealed. Unlike last year, when all the great white sharks had left for the tropics by July, this year three sharks stayed around Foveaux Strait until late September. Four of the PAT tags have come off earlier than planned, but have revealed that one shark went to the subantarctic Auckland islands while another tag came off partway between Cape Reinga and Norfolk Island.
Malcolm also explains that in May this year they attached a different kind of satellite tag to a mako shark. The SPOT tag reports daily satellite fixes, revealing that Carol, who was tagged off the coast near the Bay of Islands has so far swum half-way to Fiji before returning to 90-Mile Beach, then swimming back to Fiji, and then returning to New Zealand and swimming down the east coast. This week she had just crossed Cook Strait to the top of the South Island. You can follow her progress on this web site, which is regularly updated – click on her name at the right hand side of the page.
Kermadec Pumice Mystery Follow-Up
In August this year HMNZS Canterbury was en route to Raoul Island in the Kermadecs when it encountered a large floating raft of pumice. Science writer Rebecca Priestley was on board and she produced a story for Our Changing World documenting efforts to solve the mystery of where the pumice had come from. In October, NIWA vessel Tangaroa was carrying out a scientific expedition along the Kermadec Arc when it mapped a new volcanic cone the size of Rangitoto on the edge of the crater of the large Havre volcano. Alison Ballance talks with NIWA's Richard Wysoczanski about the finding.
Matiu-Somes Island Fluttering Shearwater Translocation
Last summer the Matiu-Somes Island Restoration Trust translocated 80 fluttering shearwater chicks from Long Island in the Marlborough Sounds to Matiu-Somes in Wellington Harbour as part of an effort to re-establish a population there. Seventy four chicks successfully fledged, although one was found dead a few weeks later on a beach near Melbourne, Australia, giving an interesting insight into the movements of the chicks once they leave the burrow.
Project leader Shane Cotter has been making regular visits to the island over winter to the site that has been chosen as the new fluttering shearwater colony. Recordings of the birds are played to give the impression of a busy colony, and to date 11 different adult fluttering shearwaters have been recorded there. Four are unbanded adults, while seven come from a translocation project carried out on Mana Island between 2006-8. One pair are currently incubating an egg. These visits suggest that the colony site is a good one, and another translocation of chicks will be made to Matiu-Somes Island on 10 January 2013.
Horrocks Family Tree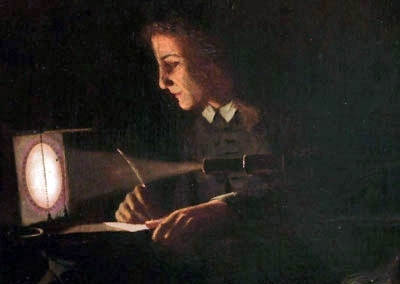 This 1903 painting by J.W. Lavender depicts Jeremiah Horrocks as he observes the projected transit of the planet Venus.
The 17th-century astronomer Jeremiah Horrocks and his friend and fellow stargazer William Crabtree were the first people to predict and witness a Transit of Venus in 1639. Horrocks died two years later, aged only 23, but his calculations and observations led to a better understanding of the size of our solar system and represented a milestone in astronomy. He was described as the "pride and boast of British astronomy' by Sir John Herschel, but also became known as the "Keats of English astronomy' for the poetry he interspersed with his science writing when ever he needed to express his excitement or just simply have some fun.
Roger Horrocks, emeritus professor of film at the University of Auckland and co-director of the production company Point of View, remembers growing up with a family myth that Jeremiah was a relative, particularly since his grandparents had lived in the same part of England before emigrating to New Zealand in 1925. He teamed up with his wife, documentary maker Shirley Horrocks, and son Dylan Horrocks, the creator of the graphic novel Hicksville, and set out to explore their connection to the astronomer, with the help of DNA tests carried out by University of Otago anthropologist Lisa Matisoo-Smith.
The result of their effort was the documentary Venus: A Quest, in which Dylan travels the world in search of clues about his family tree and the life of Jeremiah Horrocks. Below are a few cartoons of what Dylan imagines Jeremiah may have looked like (courtesy of Dylan Horrocks).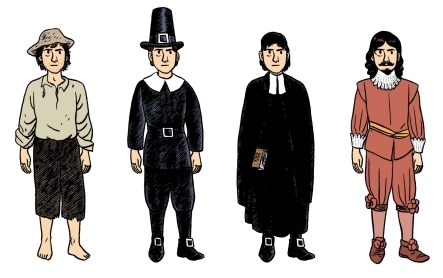 'A Picture of Aotearoa' Metagenomic Project
This year, secondary school students from around the country were invited to take part in a gene-sequencing project, A Picture of Aotearoa, designed to introduce young people to the next generation of genome sequencing technology by mapping the genetic makeup of New Zealand's soils. The project is led by Justin O'Sullivan from the University of Auckland and the Liggin's Institute and Austen Ganley from Massey University's Albany campus, and sponsored by Massey University, the New Zealand Microbiological Society, Custom Science and Roche. It aims to produce a snapshot – or "census" – of all the microbial life in our soils. The data, mapped to show the scope and variation of soil bacteria nation-wide, will help scientists better understand bacterial ecology and issues relating to soil health, and it will be published in a peer-reviewed journal. The project follows up from a pilot project carried out last year when a small group of students tested soils at Hot Water Beach in the Coromandel. Alison Ballance catches up with project co-ordinators Austen and Justin as well as participants Rachel Heenen, head of science and pupil Alex Saywell, both at Epsom Girls Grammar School and science teacher Paul Scott from Mercury Bay Area School.
Snap of chocolate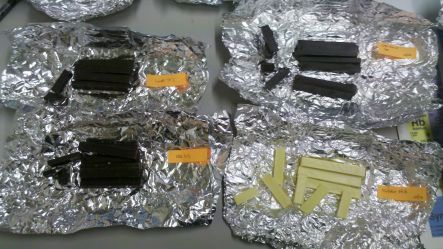 Four of the chocolates that were tested in beams (image: R. Beran)
Good quality chocolate produces a sharp, crisp sound when broken, otherwise known as "snap". While snap is a desirable property in chocolates, there are limited or no published qualitative or quantitative studies for this sensory attribute. This prompted University of Auckland engineering student Sharon Ngu under the supervision of Bryony James to see whether fracture toughness could be used to quantify the snap of chocolate, using a single-edge notched beam test.
Nine different commercial chocolate types were tempered and cast into beams for this test, as well as a sensory test where people's perception of snap was explored. The sensory test was conducted in a sensory booth where people could not see the colour of the chocolate or smell anything other than the chocolate in their hands. They were asked to rank the chocolates on quality, and how they felt. It was found that there was no correlation between the fracture toughness test and the sensory test, even when the chocolates were made with cocoa butter or cocoa butter alternative. So fracture toughness cannot be used as a measure of the quality of chocolate.
The chocolate was also studied under an electron microscope to see the size of the different particles such as cocoa, cocoa nibs and sugar.
Ruth Beran goes to the lab where Byrony James shows her the beams of chocolate, and she watches as Catherine Hobbis becomes a sensory tester and snaps the chocolate.
"Fresh" chocolate (left) and chocolate stored incorrectly so it "blooms", with the white powdery surface that forms on old chocolate (right).  Images were taken using Scanning Electron Microscopy.