Our Changing World for Thursday 6 September 2012
Building Energy End-use Study
The first nationwide survey of energy and water consumption in commercial buildings is being conducted by BRANZ. The 6-year Building Energy End-use Study (BEES) aims to examine over 500 non-residential buildings of various sizes. By providing new knowledge on resource use and indoor use, improvements can be made to water and energy use efficiency and to the comfort of occupants.  With the commercial building sector spending nearly a billion dollars each year on energy and being directly responsible for 5% of New Zealand's greenhouse gas emissions, achieving even a small improvement in efficiency would have a significant impact. Michael Babylon is conducting detailed monitoring installations of buildings, and Ruth Beran spoke with him and Nigel Isaacs about BEES.
Vitamin D Research
Vitamin D has the nickname 'the sunshine vitamin'. Strictly speaking it's not a true vitamin as we don't get it from our natural diet. Instead, like all mammals, we synthesise it from skin exposure to the ultraviolet radiation in sunlight. Vitamin D was discovered when researchers were trying to identify the cause of the childhood bone condition rickets. Vitamin D deficiency is also implicated in low bone density in adults, as it's involved in calcium absorption in the gut.
Low Vitamin D levels are being increasingly implicated in other disease conditions, but little rigorous research has been carried out to date, a situation that Massey University's Vitamin D Research Centre is trying to rectify. The Centre has a number of studies underway at the moment, and to find out more Alison Ballance heads to the Albany Campus to meet Pamela von Hurst and her students Sarah Mitchell, Carolyn Cairncross and Michelle Ingram.
Sarah Mitchell is running the Sunflower Study, a randomised, placebo controlled vitamin D supplementation trial in 13-18 year old female ballet dancers and swimmers, investigating the effect of vitamin D supplementation on muscle strength, bone health and winter illness. Participants need to visit Massey University's Albany Campus twice during the study.
Carolyn Cairncross is running Te Ra Whakaora, a nationwide survey of the vitamin D status of New Zealand pre-schoolers (2–4 years) and its relationship with incidence of respiratory and allergy diseases.
Michelle Ingram is running a randomised, placebo controlled vitamin D supplementation trial investigating the effect of improving vitamin D status on severity of symptoms in adults with psoriasis. She is looking for 112 adults (18 years plus) living in Auckland.
All three studies are looking for more participants at the moment. If you are interested in taking part here is the link to Massey University's Vitamin D Research Centre's recruitment information.
1912 in Antarctica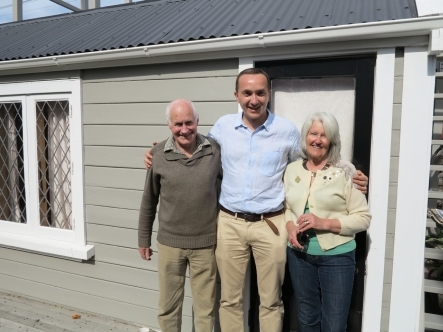 Chris Turney, middle, with David and Valerie Crichton at their earthquake-damaged Sumner property, outside the hut which had travelled to Antarctica as part of Captain Scott's British Antarctic Expedition 1910-13, but was never unloaded onto the ice. (image: V Meduna)
The year 1912 is arguably the most important year in the history of Antarctica. The main story of that year is well know: the race to reach the South Pole, the rivalry between Captain Robert Falcon Scott and Roald Amundsen, the heroic trials endured by each team, and then the devastation for Scott as he arrives second and the tragedy of his polar party's ill-fated return journey.
But that is only part of a much bigger story. There were five separate expeditions to Antarctica in 1912. Amundsen for Norway, Scott for Britain, Wilhelm Filcher for Germany, approaching Antarctica from the Weddell Sea, a Japanese expedition led by Nobu Shirase, and Douglas Mawson's Australasian expedition – all heading south to what was then a largely unknown continent.
A century later, geologist Chris Turney charts these separate journeys and their scientific discoveries in his latest book, 1912: The Year the World Discovered Antarctica. In this interview, he discusses a discovery he made himself while researching the book as he found letters and notes suggesting that Scott's second-in-command, Teddy Evans, had taken more than his share of food from depots during his return to base. He also explains how some of the data collected during these Heroic Era expeditions still serves as a baseline for scientists today. You can also listen to an interview on Sunday Morning and a review on Nine to Noon.
Veronika Meduna meets Chris at what's known as Scott's Fourth Hut, a pre-fabricated hut which had travelled to Antarctica onboard the Terra Nova in 1911/12 but was never unloaded. It was acquired by the expedition's agent Joseph Kinsey and taken to his property in Sumner, Christchurch. Although the Canterbury earthquakes have destroyed the Kinsey house and the home of the current owners, Valerie and David Crichton, the hut has remained intact.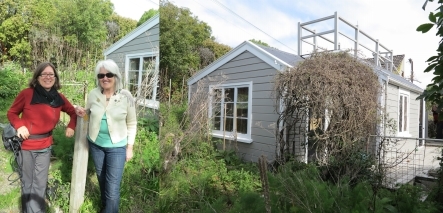 Veronika and Valerie Crichton at a post, which was used to tie up the dogs that travelled to Antarctica with Scott; Scott's Fourth Hut, now the only building still intact on the property, following the Canterbury earthquakes. (images: C. Turney)
Mystery Sound
The eighth mystery sound is an aluminium rod played by Alastair Galbraith. He's holding the rod with one hand, and then squeezing it with the fingers of the other hand. The motion causes a longitudinal wave, with vibrations travelling the length of the rod. You can listen to that story here.