Our Changing World for Thursday 14 April 2011
Lab-on-a-Chip Devices
From left to right: Bryon Wright, Donald Wlodkowic and Jin Akagi (images: University of Auckland)
Using techniques developed for the semiconductor industry, lab-on-a-chip devices incorporate one or several laboratory functions on a chip no bigger than the size of a credit card. Tiny amounts of liquid can be passed through these devices, and when directed through channels in the circuit-like chip, the microfluidics can be manipulated to create pumps, valves, or even traps.
At the University of Auckland, the Microscale Research Group and the BioMEMS Research Group are making these lab-on-a-chip devices, with researchers like Donald Wlodkowic using trapping techniques to study single cells, such as cancer cells, and analyse the impact of anti-cancer drugs.
Ruth Beran visits David Williams and Jin Akagi in the Department of Chemistry, and they take her down to the basement, to meet Bryon Wright who shows her where these devices are made using lithography in the clean room of the Microfabrication Facility.

A lab-on-a-chip device, and the yellow light in the clean room (images: University of Auckland)
Laser Etching

From left to right: Charles Rohde with the femtosecond laser, the paper microfluidic device, and Cather Simpson at the microfabrication station (images: University of Auckland)
At the Photon Factory, a laser is being used to etch the masks for the lab-on-a-chip devices created at the University of Auckland. The laser can deliver short (nanosecond) and ultrashort (femtosecond) light pulses to fabricate the micron-scale devices, and Cather Simpson and Charles Rohde demonstrate how it's done.
Josh Bradfield then shows Ruth Beran how the same techniques can be used to create a microfluidic device on paper. He has created an example where red and blue ink can be raced through tiny pipes etched with the laser into paper. The device resembles the Light Cycle game in the movie Tron. The ultimate aim being that similar devices could be developed on paper as cheap medical diagnostic tests for use, for example, in developing countries where more expensive, and less stable tools are impractical.
Weeds on Matiu/Somes Island - Part 2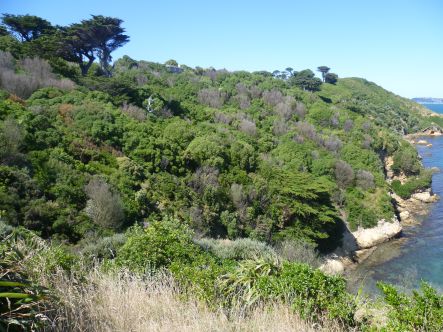 The western cliffs on Matiu/Somes Island, showing dying karo trees that have been drilled and poisoned with herbicide (image: A. Ballance)
Last week On Our Changing World, Department of Conservation ranger Peter Russell introduced Alison Ballance to the issue of weeds on Matiu/Somes Island, in Wellington Harbour. This week, Peter and Alison continue their discussion of weed issues, and Peter demonstrates several control methods. Matiu/Somes Island is open to the public, and easily accessible by ferry from downtown Wellington.
A Tribute to Don Merton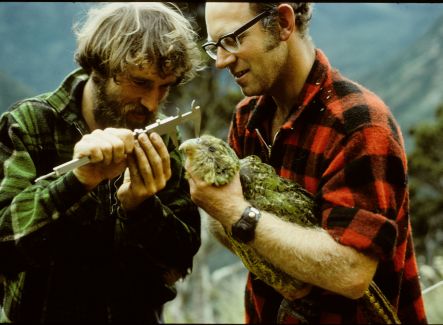 Don Merton (right) and Hugh Willoughby pictured in 1975 shortly after the capture of Richard Henry, the last surviving Fiordland kakapo, who died on Christmas Eve 2010 (image: Don Merton)
Dr Donald Merton (1939-2011) died at the weekend at his home in Tauranga. He was one of New Zealand's most well-known conservationists, famous for his work with threatened bird species both in New Zealand and in the Indian Ocean. He was most well-known for his work with the Chatham Island black robin and kakapo, but also played a pivotal role with both North and South Island saddlebacks.
Early on in his long career with the New Zealand Wildlife Service, and later with the New Zealand Department of Conservation, he worked with a team of volunteers on Hen Island in the Hauraki Gulf, developing techniques to catch North Island saddlebacks, hold them in temporary captivity and move them to new island homes. This marked the beginning of island translocations as a very successful management tool for threatened species.
The new found techniques were put to use the following year when Don and colleagues Brian Bell and others launched a last-minute attempt to save three rare bird species on Big South Cape Island following a rat invasion. Two bird species became extinct but the South Island saddleback was successfully rescued. As Don explains to Alison Ballance in his last interview, recorded just before Christmas, Big South Cape marked a sea-change in the recognition of rats as significant predators that could cause rapid extinctions.
You can read more about Don's life work in 'Don Merton - the man who saved the black robin', by Alison Ballance (Raupo Publishing 2007).