Our Changing World for Thursday 26 August 2010
9:40 PM.An ongoing research programme is developing new foods to release energy more slowly and improve health Audio

9:26 PM.A tribute to Sir Graham Liggins, better known as Mont Liggins, who died this week on Tuesday 24 August Audio

9:06 PM.Miriam Sharpe and Kurt Krause want to identify glow worms' light-emitting protiens for use in medical and other purposes Audio
Glow worms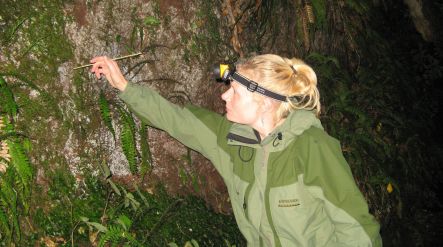 Miriam Sharpe collecting glow worms (image: Harald Rysy)
University of Otago researcher Miriam Sharpe collects glow worms (Arachnocampa luminosa) at night from Nichols Creek just outside of Dunedin, and wants to find out how glow worms actually glow.
The light that glow worms emit is very bright and steady, and can adjust in response to their surroundings and need for food. Glow worms are not related to any organism in which bioluminescence has already been studied in detail, so it is likely their bioluminescence has a novel underlying mechanism.
It appears that the light-emitting porteins in glow worm's tails work in conjunction with the biological energy molecule, ATP, and if successful, Miriam Sharpe's work could lead to these proteins being used for things like medical imaging - for example, to indicate blood sugar levels in diabetics, or test drugs in development. Light-generating luciferase proteins are already used extensively in research in biotechnology in the biomedical, environmental and agro-food fields, but because the light emitted by glow worms is a different colour to existing commercially available luciferases and may work in a different way, it may complement or even replace these luciferases as a research tool.
Ruth Beran accompanies Miriam Sharpe, and supervisor Kurt Krause (left), to see how she conducts her research.
Sir Graham Liggins
Sir Graham Liggins, better known as Mont Liggins, died this week on Tuesday 24 August. Following in his father's footsteps, Mont Liggins trained as an obstetrician and gynecologist, but when he wasn't delivering babies, he dedicated one day a week and many of his weekends to research, hoping to find out what triggers the onset of labour. His pioneering research into pregnancy and labour helped save the lives of thousands of premature babies worldwide and continues today at the University of Auckland's Liggins Institute. To acknowledge his life's work, Our Changing World plays an interview recorded in 2001, in which Mont Liggins tells former Radio New Zealand producer Allan Coukell how it all began.
Carbohydrates and Lifestyle Foods
We get a lot of conflicting information about the food we eat, and about the benefits and drawbacks of different types of food. Carbohydrates, in particular, have had a lot of bad press. Lifestyle Foods for Energy Balance is a research programme at Plant and Food Research, focusing on grain-based carbohydrates. Funded by the Foundation for Research, Science and Technology, the programme has been running for six years and has just received funding for a further three years. The research team has been investigating how chewing and digestion affects the energy we get from carbohydrates, and developing new grains and food products to release energy more slowly, and improve the health benefits. One of the spin-offs has been a web-based diet programme, Aspire for Life, and the development of the E-mark, a new food label to make it simpler for shoppers to buy healthy food. Alison Ballance heads to the grain-based food pilot plant laboratory at Lincoln to talk with Plant and Food Research's Tim Lindley, Arran Wilson and Kevin Sutton about the many varied aspects of the programme.