Our Changing World for Thursday 12 August 2010
9:44 PM.Maggie-Lee Huckabee is helping people with swallowing difficulties, such as stroke patient Derek Chapman who's making progress Read more Video, Audio

9:22 PM.A Waikato University 'large river' research project is focusing on life in New Zealand's longest river Audio

9:06 PM.Year 12 Christ's College students and their teacher Andrew Taylor explore Rutherford's Den with educator Claire Norton Audio
Rutherford's Den
Some Year 12 Christ's College students at Rutherford's Den (images: Rutherford's Den)
Ernest Rutherford is New Zealand's most famous scientist. He won numerous awards for his research, including a Nobel Prize, and his face features on our $100 notes.
His student days were spent at the former Canterbury College, now housed in the Arts Centre in Christchurch.
In 1894, he asked permission to use a cloakroom in the corner of the main quadrangle to conduct his experiments, and the room became known as Rutherford's Den.
School groups can visit Rutherford's Den for free, and about 2,500 students visit each school year, usually split evenly between primary and secondary students. Rutherford's Den Trust was established in 1999 and spent a decade developing an exhibition space and education programme.
Ruth Beran accompanies Christ's College Year 12 students David Barclay, Rory Callaway, Simon Jarman, Peter Jobson, Harry McGuigan, Andrew Moore, Joshua Nicholl, Chris Read, George Sim, and Bradley Wood, and their teacher Andrew Taylor, as they step back in time and explore Rutherford's Den with educator Claire Norton.
Waikato River
The Waikato River is not only New Zealand's longest river - it is one of the country's most used waterways. Management for the river has just entered a new phase of co-management, with local iwi co-operating with local and central government through the Guardians of the Waikato River.
The Waikato River is also the focus of a new 'large river research' initiative, led by Kevin Collier from the University of Waikato and Environment Waikato. Alison Ballance joins freshwater ecologist Kevin Collier, and University of Waikato students Melany Ginders, Toni Johnston and Michael Pingram, to find out about their research projects into the invertebrates, fish and nutrients of the river.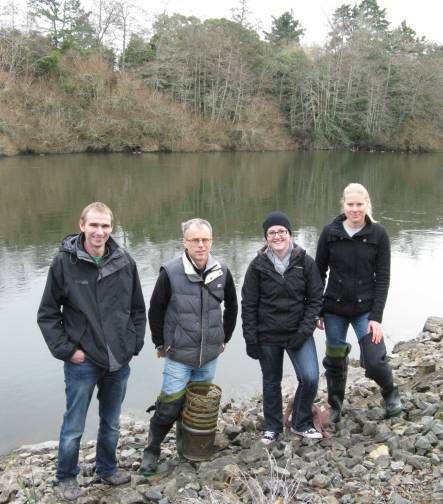 Waikato University 'large river' research team standing on 'riprap' next to the Waikato River: from left to right, Michael Pingram, Kevin Collier, Melany Ginders and Toni Johnston(Image: A. Ballance)
A new book, The Waters of the Waikato, is available from Environment Waikato for $49 (email: library@ew.govt.nz). The book, which brings together the latest information about the river, has 48 contributors and is edited by Kevin Collier, David Hamilton, Bill Vant and Clive Howard-Williams.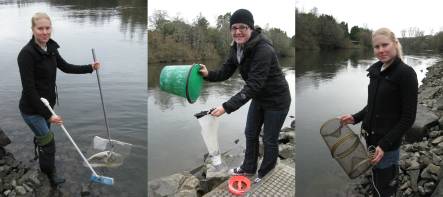 Freshwater sampling techniques: Toni Johnston with broom and net for brushing 'riprap' (left), and holding a fish trap (right), and Melany Ginders (centre) collecting plankton samples (Images: A. Ballance)
Dysphagia

Maggie-Lee Huckabee, and two treatments used for dysphagia: an ultrasound image and manometry
Swallowing activates 32 paired muscles, is controlled by seven cranial nerves, and happens in the space of only about 800 milliseconds. Most people don't even think about swallowing. But for those people who've lost the ability, it is something they think about all the time, and it's not an easy process to regain.
University of Canterbury'sMaggie-Lee Huckabee and her team are helping people with swallowing difficulties using various techniques including ultrasound, manometry, and video fluoroscopy, otherwise known as motion x-ray. The video below demonstrates video fluoroscopy for someone swallowing normally, followed by someone with dysphagia.
Ruth Beran goes to the Swallowing Rehabilitation Research Laboratory at the Van der Veer Institute in Christchurch to discover what dysphagia is, how it's treated, and to meet stroke patient Derek Chapman, who hasn't been able to swallow for months, but is making progress.