Our Changing World for Thursday 3 June 2010
Taiko on the Chatham Islands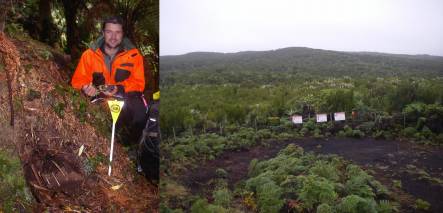 Pat Liddy next to a taiko burrow with a 'stick fence' in the entrance, and view of the Tuku valley (images: A. Ballance)
In 1867 a few small seabirds were seen and caught in the mid Pacific, halfway between South America and New Zealand. Italian scientists described them as magenta petrels, but no one knew where they bred. For over a hundred years the magenta petrel was considered extinct, until David Crockett rediscovered them on the Chatham Islands in 1987, after 9 years of looking for a bird that the local Chatham Islanders knew as the taiko. Today, taiko are one of our rarest birds, thought to number just 150 or so birds. Only 17 breeding pairs are known. The birds breed in dense forest in the Tuku Valley in the south of the main Chatham Island, where the Department of Conservation runs an intensive predator trapping programme to protect the birds from rats, cats and feral pigs. Each breeding burrow is monitored weekly, and Alison Ballance joins Department of Conservation ranger Patrick Liddy for his weekly check, during which he finally takes a peek at the last two eggs of the season. One egg was infertile, which took the chick tally for 2010 to 13. Since this story was recorded all 13 chicks were moved to the predator-proof Sweetwater Covenant for the last few weeks before they fledged, in the hope they will return there in 4 or so years. The last chick left its burrow in the middle of this week.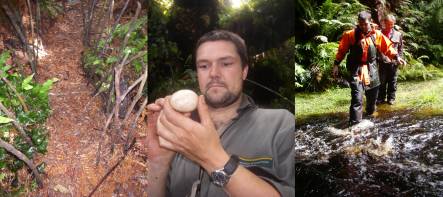 The sticks guide feral cats over a leg-hold trap hidden under leaf litter in the middle of the track, Pat Liddy with an infertile taiko egg, and crossing the Tuku River in flood (images: A. Ballance)
Computers and Hand Drawn Diagrams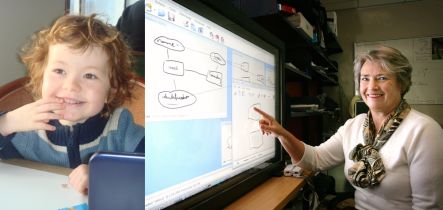 While computer recognition of handwriting is widely available, reliable recognition of hand-drawn diagrams isn't. University of Auckland's Beryl Plimmer (pictured right, image: Gottfried Boehnke) is developing programmes to help computers "understand" people's sketches, allowing for easier editing, animation and translation.
Sketches are often ambiguous, and there are variations between people, making it difficult for computer recognition. If people's diagrams can be recognised using a touch-screen computer, then various applications are possible, for example: drawing flow diagrams, filling in medical forms and correcting students' work electronically.
However, to see if the human brain is superior to a computer for some tasks, Ruth Beran first puts human Liam George (pictured left), to the test.
Urine Test for Kidney Transplant Rejection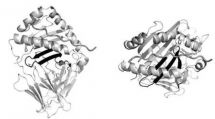 A seven-year study of New Zealand, Australian and Swiss kidney transplant patients has resulted in a world first for University of Otago researchers - the development of a fast simple urine test to detect kidney transplant rejection. About 4 patients a year in New Zealand, of the hundred or so that receive a kidney transplant, risk losing their transplant in the first year after surgery, and the quicker the problem is realised the better the chance of successfully overcoming the rejection episode with immunosuppressant drugs. Immunologist Alex McLellan had a hunch that a Major Histocompatibility Complex (MHC) molecule (above left) present in kidneys during rejection episodes might be detectable in urine, and in collaboration with Rob Walker, Head of Medical and Surgical Sciences at the Dunedin School of Medicine, and other researchers they set out to test the idea. The result is a rapid simple non-invasive urine test, which shows great promise although further testing will be required before the test could become commercially available.
The results were published in the journal Transplantation 15 May 2010, Volume 89 (9):1071-1078. Alex McLellan was awarded a Early Career Award for Distinction in Research in 2008.
Tour of a Pathology Lab - Part 3

From left to right: Collette Bromhead, Andrew Tie, Fuianina Washburn, Richard Steele and Michael Crooke
In the final story from Wellington-based community pathology laboratory Aotea Pathology, Ruth Beran meets Collette Bromhead who shows her how PCR is used in the molecular biology department, and Andrew Tie dissects a whole human kidney containing a tumour.
Fuianina Washburn demonstrates how a slide is prepared in the histology department using a microtome and water bath, and pathologists Richard Steele and Michael Crooke explain what they do.

Preparing a slide using a water bath and plastic cartridge (image:Simon Hoyle, Southlight)