Our Changing World for Thursday 1 October 2009
After the Big Fiordland Earthquake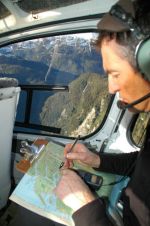 When the magnitude 7.8 earthquake gave Dusky Sound - and the rest of the South Island - a big shake-up back in July, Dunedin geologist Simon Cox was part of the GNS Science Rapid Response team that flew into Fiordland to assess the aftermath. He talks with Alison Ballance about the evidence that has been collected in the days and weeks following the quake, and how it is helping our understanding of earthquakes and faults.
Simon Cox mapping landslides from the air immediately after the big Fiordland earthquake (Image: Shane Cowlishaw - Southland Times)
Gut Flora
Some people believe the functions carried out by the micro-organisms in our gut resemble that of a "forgotten" organ in our body, while others refer to them as a "super-organism". Commonly called gut flora, most of these micro-organisms are bacteria and not a lot is known about how food alters the interactions between these micro-organisms and our bodies. Plant and Food Research's Juliet Sutherland and Douglas Rosendale are looking into these interactions and Ruth Beran went to meet them in the lab to find out more.
Memes and Memetics
In his 1976 book The Selfish Gene, Richard Dawkins introduced the word "meme" which - like a gene - is an idea that replicates and undergoes natural selection, but forms the basis of cultural evolution rather than biological evolution.
Victoria University's Matt Gers and Ben Jeffares agree that memes are a valid way of understanding change in culture, but they disagree on how complete the concept actually is. Ruth Beran meets with them to find out why they disagree, what memes are, and whether memetics can even be considered a branch of science at all.
Easter Island Pollen Research

Pollen might be very small, but as Massey University's John Flenley knows it can offer very big insights into the past. He has used pollen to illuminate the history and past vegetation of Easter Island, famous for its giant statue-building Polynesian civilisation. This research features in the book 'Easter Island Earth Island', which John Flenley co-authored with Paul Bahn.

John Flenley and Easter Island statues (top); collecting sediment samples on Easter Island (above). (All images: Troy Baisden/GNS)
John Flenley (PDF) talks with Alison Ballance about his original pollen research, and his collaboration with Troy Baisden of GNS Science and Mark Horrocks of Microfossil Research Ltd in a Marsden-funded project seeking to understand the reasons behind the collapse of the island's society. The project is entitled 'Was collapse inevitable on Easter Island (Rapa Nui)? Reconstructing a civilisation's failure', and aims to test a hypothesis that the Easter Island population over-shot the carrying capacity of their aged and weathered volcanic soils. Troy Baisden kept a blog of the team's recent field trip to Easter Island during which they collected sediment cores for analysis in New Zealand, and he spoke last year with Veronika Meduna.