Our Changing World for Thursday 10 September 2009
Manawatu River Pollution and Freshwater Fish
In a newly released report on the state of rivers in the Manawatu, the Horizons Regional Council describes the state of the Manawatu River as 'Generally Poor'. They go on to say that 'There is little forested area in the headwaters to contribute to pristine water quality and water is significantly degraded as the river flows from the east to the west coast. When the river is at high flows, levels of E. coli, sediment and nutrients are elevated.' Massey University freshwater ecologist Mike Joy is dismayed at the state of rural rivers such as the Manawatu, especially for what that means for native fish.
Printable Solar Cells
A team of New Zealand scientists were recently successful in gaining $5.7 million in funding from the Foundation for Research, Science and Technology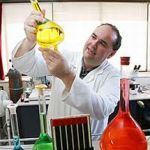 to create high efficiency, printable solar cells that could be incorporated into roofing materials. If successfully created, these solar cells could provide the total average energy requirements for each household.
The team is headed by Ashton Partridge from Massey University (left) who specialises in conducting polymers, and a collaborator in the project is Richard Tilley from Victoria University of Wellington, who is working on quantum nanodots.
Printing photovoltaic cells in bulk would mean their price could rival that of other non-renewable energy sources. However currently, printable solar cells are not quite efficient enough to be price competitive.
The physics of printable solar cells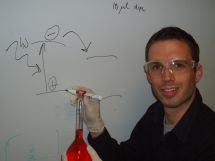 In order to improve the efficiency of solar cells, scientists need to know the physics of how the materials in the solar cells are actually working and that is what one of the other collaborators, Justin Hodgkiss (right) also from Victoria University of Wellington and the MacDiarmid Institute for Advanced Materials and Nanotechnology, is trying to determine.
Wildlife Sound Recordist John Kendrick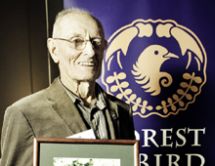 For nearly forty years, bird calls have been a regular and much loved feature of Morning Report. This year Forest and Bird honoured the man behind those bird calls with an Old Blue Award for his services to conservation. Alison Ballance met with John Kendrick at the Karori Sanctuary in Wellington to hear about his career as a wildlife sound recordist and film-maker with the New Zealand Wildlife Service, and to find out how the bird calls came about.
John Kendrick at the Old Blue Awards (image: Jeff McEwan/Forest and Bird)
The Morning Report team also caught up with John to congratulate him on his award, and you can listen to all the bird calls, and see pictures of the birds, on Radio New Zealand's website.