Our Changing World for Thursday 12 March 2009
Kakapo breeding season
Alison Ballance shelters newly rediscovered kakapo, Rangi, from the rain while Daryl Eason (centre) and discoverer Chris Birmingham (left) fit him with a radio transmitter. Image: Deidre Mussen
More good news on the kakapo front, as the population passed the magic 'one hundred' mark this week. It's early days for the latest arrivals, but the chicks are being well cared for by their mothers, and watched over by a hard-working group of kakapo staff and volunteers. This week's instalment of our kakapo series features the rediscovery of missing bird Rangi, and follows Spanish expert Juan Blanco and the Cawthron Institute's Samantha Gale into their island laboratory to find out about sperm testing and cryopreservation.
Pacific migration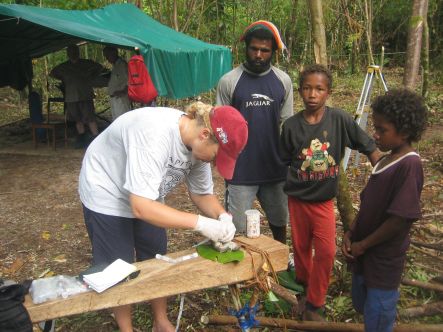 Lisa Matisoo-Smith dissecting a rat in Papua New Guinea.

The settlement of the Pacific region was one of the most extraordinary feats in human history. It involved one of the earliest population migrations out of Africa, occurring over 40,000 years ago, and the last major human population expansion, resulting in the settlement of the Polynesian Triangle. Lisa Matisoo-Smith, a biological anthropologist at the University of Auckland and a principal investigator at the Allan Wilson Centre of Molecular Ecology and Evolution, explains genetic research that traces the migration path of the early navigators, based on ancient and modern DNA of people and the animals they brought with them.
Realise the Dream
Their enthusiasm for science has earned 29 school students from around New Zealand more than $40,000 worth of prizes as well as trips to science fairs and competitions around the world. At the Genesis Energy Realise the Dream prize giving dinner at Te Papa earlier this week, 21 awards were handed out for the best and most innovative research projects. Pictured above is the overall winner Jake Martin, from Cambridge High School, receiving the Supreme Award from the Minister of Research, Science and Technology Dr Wayne Mapp. Pictured below, on the left, Matamata College student Beth Hampton receives the Innovative Solutions Award and, on the right, MacLeans College student Alyosha Yashin recieves the Counting on Data award. You'll find a full list of winners here.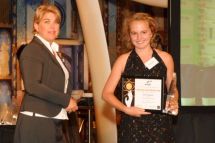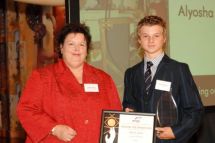 Tuatara evolution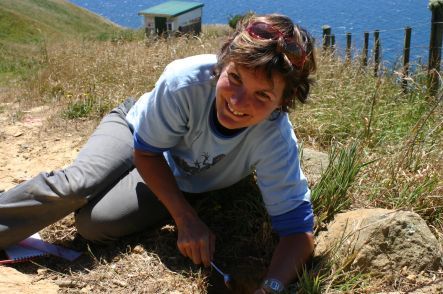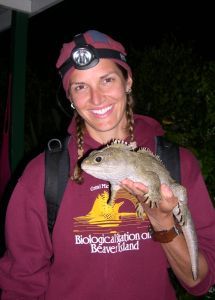 Tuatara are amongst the most primitive living reptiles, and have undergone few evolutionary changes in anatomy during the past 200 million years, although recent research shows they have the highest molecular evolutionary rate ever measured in an animal. There are two species in New Zealand: Cook Strait tuatara are the most widespread, and have their stronghold on Stephens Island, while Gunthers tuatara survived only on North Brother Island. Jennifer Moore (right, image: Jim Gillingham) and Nicola Nelson (above, image: Anne Besson) are both members of the tuatara research team from the Allan Wilson Centre at Victoria University. The team been studying tuatara on Stephens Island for more than 50 years, and is also actively involved in conservation programmes such as the relocation of tuatara to Karori Wildlife Sanctuary in Wellington.
Check out previous Our Changing World tuatara stories about tuatara release at the Karori Wildlife Sanctuary, Gunthers tuatara on Matiu-Somes Island, and tuatara biology on Stephens Island.