Our Changing World for Thursday 1 May 2008
9:35 PM.Sniffing out any rogue weasels at the Karori Sanctuary. Audio

9:06 PM.Dacia monitors the defrosting and examination of the world's largest squid. Audio
On This Programme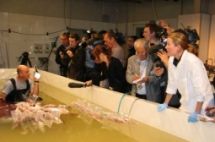 The examination of a colossal squid this week at Te Papa has become something of an international event. The squid - the largest of its kind ever found - has been frozen since it was accidentally caught by fishermen off Antarctica last year. This week scientists carefully defrosted the squid under the curious gaze of the world's media.
Dacia Herbulock spent several days "tank-side" with the scientists involved - including "squidman" Steve O'Shea - watching the spectacle unfold.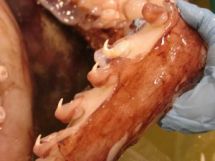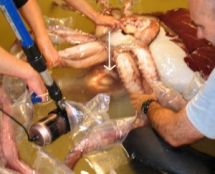 Mustelids (stoats, ferrets and weasels) together with cats and rodents pose a grave threat to New Zealand native species. The Karori Wildlife Sanctuary is an urban haven for a number of endangered species including kiwi, robins, geckos, weta, saddlebacks, kaka and long tailed bats.
A specially designed fence is one strategy the sanctuary employs to prevent invasion by mammalian predators. The sanctuary's rigorous bio-security measures have proved exceedingly effective and there have been only two breaches in nine years.
When a weasel was sighted in February, staff were prepared and a trapping plan swung into action. The weasel was caught but they had to be sure it was the only one and called in a bio-security team.
In the final part of our series at the Karori Wildlife Sanctuary, Amelia Nurse joins DOC ranger Scott Theobald and his mustelid detecting dog Crete on their second audit of the sanctuary since the invasion.
Conservation scientist Raewyn Empsom (right) with the offending weasel. Photo courtesy of Karori Wildlife Sanctuary.
Footage shows the dramatic showdown at Karori Sanctuary on the afternoon of 22 February when members of the public helped Sanctuary staff (lead by Raewyn Empson) trap a weasel at the world-first fenced sanctuary in Wellington.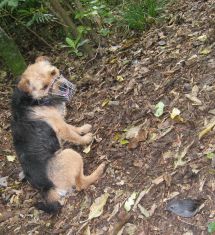 A North Island Robin above left and above right Mustelid-detecting dog Crete, showing why some native New Zealand birds need human intervention to protect them from mammalian predators.