Our Changing World for Thursday 14 February 2008
9:46 PM.The voyage leader of NIWA's research vessel shows Amelia around before heading to the Ross Sea. Audio

9:20 PM.The ABC's Lynne Malcolm explores biodiverity hotspots in Vietnam. Audio

9:06 PM.DOC Ranger Joe Potangaroa lets Amelia"help"him feed the eels. Audio
On Tonight's Programme:
It's lived in New Zealand for over 80 million years. It matures when it's around 35 years old. It can live to be 100 years old. Its slime helps it breath and protects its skin. The females are bigger than the males. Near the end of its life it makes and epic journey to Tonga, breeds once and dies. The long fin eel is New Zealand's biggest endemic fish. Amelia Nurse meets a few in person when she helps Department of Conservation ranger Joe Potangaroa feed them at Pukaha Mount Bruce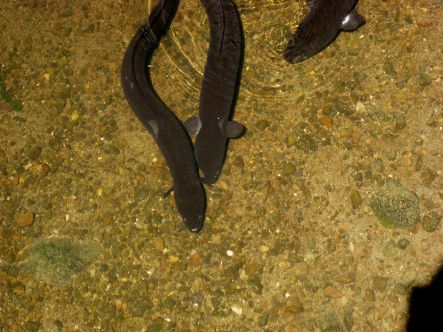 Female Long Fin Eels
An Eel and a Trout co-habiting
Most of the earth's plant and animal species are concentrated into just a few small areas. These biodiversity hotspots have many rich secrets to reveal, yet all are facing huge pressure from human activity. In a four part series, Balancing Nature, by the ABC and the BBC, Lynne Malcolm visits important hotspots in the Asia-Pacific region - Central Vietnam, the Philippines and New Zealand - for new insights into the amazing range of unique species and to examine whether conservation efforts can succeed in safely balancing nature's treasures with the many threats that could lead to their extinction.
NIWA's Research Vessel Tangaroa left on January 30th for an 8 week trip to the Ross Sea. After 6 days at 12 knots, they'll arrive - and then spend 35 days gathering information including biological samples and images of the seafloor. John Mitchell is a NIWA geologist and the voyage leader. His role involves the general oversight of daily activities, liaising between the scientists, the crew and bridge officers - and making sure everything happens efficiently, as time is precious in the south seas. Amelia Nurse asked him if he'd give me a bit of a look around this ship where 26 scientists and 18 crew will be spending 8 possibly quite rough weeks.