One In Five for Sunday 24 August 2014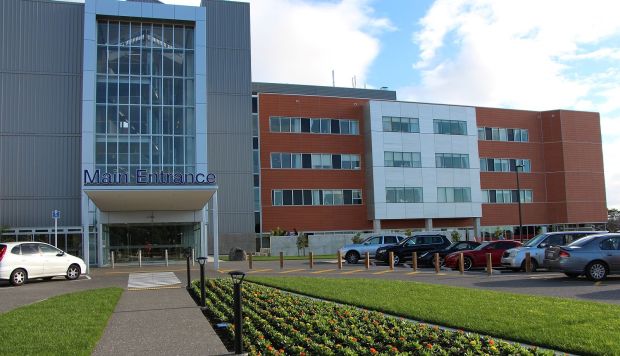 The $80 million, disability friendly hospital wing
7:06 PM.Taranaki Base Hospital has recently officially opened a smart new wing. It cost $80 million dollars to build and includes six new wards, six operating theatres and day stay services. It has also been… Read more Audio
Lance Girling-Butcher spent 17 weeks in Waikato Hospital going blind.
While he was there he had plenty of time to think about what could make a hospital stay more comfortable for someone with a disability.
Lance is from Taranaki and recently has been able to have his say, along with all the other members of the health board's Disability Action Group, during the planning of the province's new hospital wing.
The $80 million New Plymouth building, with its six new operating theatres, six new wards and day-stay services was officially opened in June.
It has hands-free opening doors, ensuites in every room, completely clear corridors, talking lifts, hoists that can take patients from their bed right into the ensuite, colour-coded meal trays for people who need special assistance and white boards to alert staff to the people who might need extra help.
The 16-member Disability Action Group made recommendations for the entire building, from the car park through to corridors, bathrooms and wards. 
 "One of the things that we did ask for was that the controls that patients use when they are in bed like the nurse call or the controls for the television are all on an arm that folds down instead of being behind the bed as it used to be. You've just about got to be a contortionist to get behind your head as I can tell you from bitter experience."
Lance says he was surprised and delighted when the Disability Action Group's recommendations were approved and included in the design.
"When you think about it people are either disabled when they go into a hospital or they are often temporarily disabled when they are discharged so there's a lot of sense really in getting a group of disabled people to make your hospital more accessible."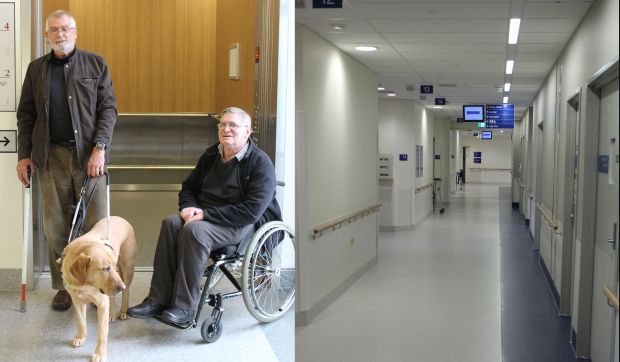 Left: Lance Girling-Butcher and Yogi, and John Major outside the talking lift. Right: An obstacle-free corridor.