One In Five for Sunday 8 July 2012
7:06 PM.One in Five catches up with Paralympic rower Danny McBride after a training session on Lake Karapiro and takes a look at the very complicated science of classifying athletes with disabilities. Audio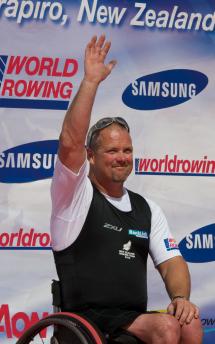 Danny McBride (right) is the only rower representing New Zealand at next month's Paralympics in London.
One in Five catches up with him after a training session on Lake Karapiro, and hears how the relative new comer to the sport  has become a member of the rowing elite.  
And, on the subject of Paralympics, One in Five also takes a  look at the very complicated science of classifying athletes.
There are hundreds of classifications for athletes with disabilities – all carefully devised to ensure the athlete who has put in the most effort, has the most skill, and employs the best tactics, is the winner on the day.