One In Five for Sunday 5 September 2010
7:06 PM.A family experience of disability that doesn't fit any of the boxes, and the performance workshops that are bringing Deaf and Hearing people together. Audio
All the World's a Stage
Coming your way later, we've the first in a series of performance workshops that're bringing Deaf and hearing people together. In part one we meet up with international Deaf drama tutor Adrian Blue, plus the entourage of people gathering to learn more about performance theatre.
Thanks to Oddsocks Productions, the integrated production 'Resolve' kicks off at Wellington's Bats theatre in a couple of weeks time.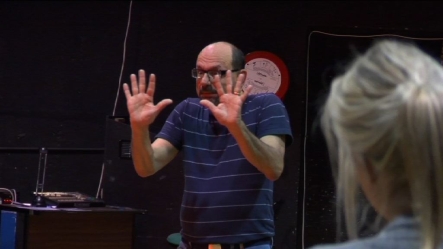 International Deaf Drama tutor Adrian Blue.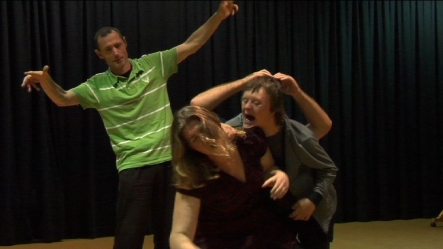 Deaf and Hearing Integrated Theatre in action.

Tutor Adrian Blue (seated) with participants.
Family ties of a different kind
First up though, the blog entry a listener alerted me to that got me wondering about the back story. Trish Anderson, who in her blog self-titled 'Ramblings of the Shrew', pondered how new British Prime Minister David Cameron's thinking about disability might be affected by having had a son impaired by epilepsy and cerebral palsy. Sadly the Cameron's six year old son Ivan died in February last year. Trish Anderson says that thankfully, that's not been the case for her physically and intellectually disabled son Thomas. But Trish Anderson says it's still a situation that puts her and her family - like the British first family - in a different category from others who experience disability.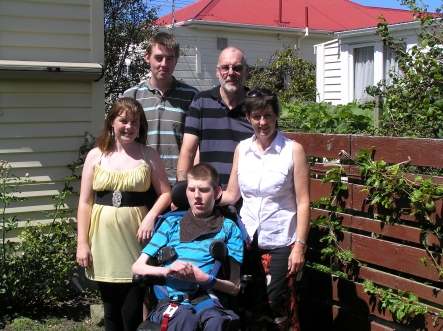 Thomas (seated) with his family, from left to right: Kate, Kieran, Warren and Trish.