The Exchange - XCHC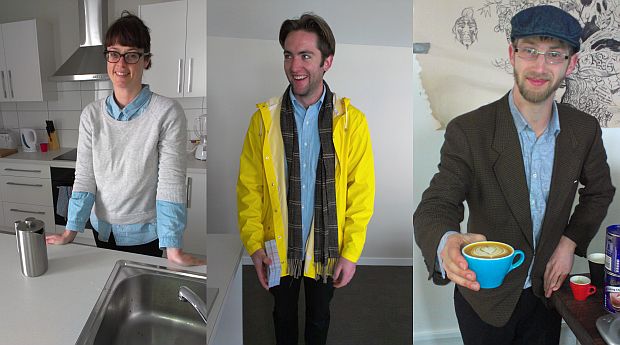 Left: Jo Mair of the Festival of Transitional Architecture is a tenant at the XCHC. Middle: Harry Knight is the facilitator for the XCHC. Right: XCHC in-house barista, Mark Chirnside proffers a flat white
"The name says it all: Exchange." says Jo Mair of the Festival of Transitional Architecture (FESTA).
Christchurch creatives and inventors are investing their energies in a new arts hub: The Exchange. Katy Gosset pays a visit. Audio
XCHC
The popular Christchurch festival is now in its third year and the organisation behind it is one of the first tenants at the XCHC or Exchange. Located in Wilson Road's semi-industrial zone, this old brick building is the latest hub for arts activities in post-quake Christchurch.
Its facilitator, Harry Knight says the venue will allow smaller arts players to mount short-term projects and display exhibitions or performances, without incurring great costs. "The whole idea about the Exchange is to have a space where people can produce work, create work and also showcase it." But he says another key aim is to encourage collaboration between different groups and creative organisations.
Jo Mair says a co-working environment has been crucial to FESTA's success this year and useful discussions with other tenants have already taken place. "It has been a true venue for exchanging ideas, for making connections, for supporting what we do, for the support that we can offer other small arts organisations."
A large, open-plan area has yet to be fitted out, but is already playing host to festival activities and public talks, including the recent launch of the city's annual Body Festival. Its artistic director, Adam Hayward, says his organisation has moved eight times since the earthquakes and he was attracted to the Exchange by the idea of working with other arts groups. "[We were] really keen to come and support, really buy into the whole ethos." And he says in a country as small as New Zealand, art organisations need to work together. "We can't continue to work in isolation but actually spaces like this begin to offer room and atmosphere that's conducive to [...] breaking down a lot of those silos."
Another early tenant is the Fab Lab, run by a social enterprise, Fabriko. It will offer training and access to new technologies like 3D printing, for members of the public. Its spokesperson, Carl Pavletich, says innovation is less about machines than about the way people apply them to the real world. And he says a space like the Exchange encourages collaboration and camaraderie, particularly in the post-quake environment. "I think everyone's itching to go into a post-transitional phase whatever that may be and see what comes out of it."
Also in the mix at the Exchange is a small in-house coffee operation, tended by Mark Chirnside who's enjoying trying out his own café.
And Harry Knight says, as with the performance space, the kitchen area will be a chance for people to experiment with short-term hospitality projects. He says the Exchange has won some initial funding from the Christchurch City Council to sustain it during its first year of operation.
But tenants say, just one month after opening, the venue is already working as an arts hub.
XCHC Christchurch is at 376 Wilsons Road.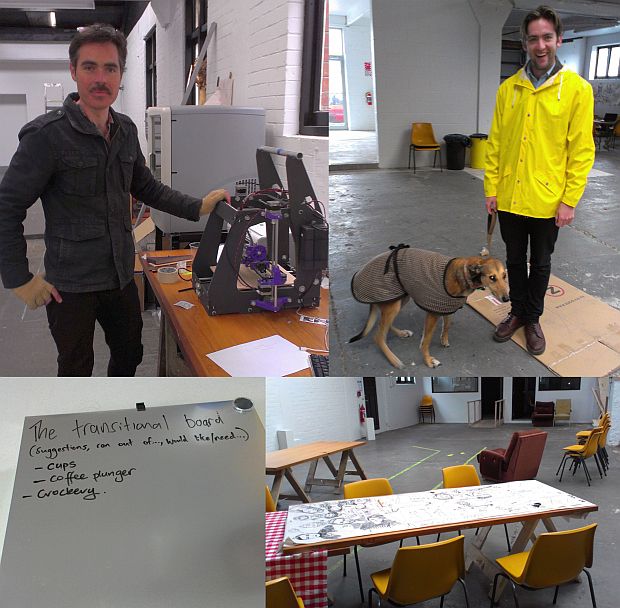 Top left: Carl Pavletich of Fab Lab setting up his 3-D printer. Top right: Walking Tui the Dog is another shared activity.  Bottom left: The transitional board. Bottom right: The XCHC has yet to be fitted out but has already hosted a number of events and talks