Having a Laugh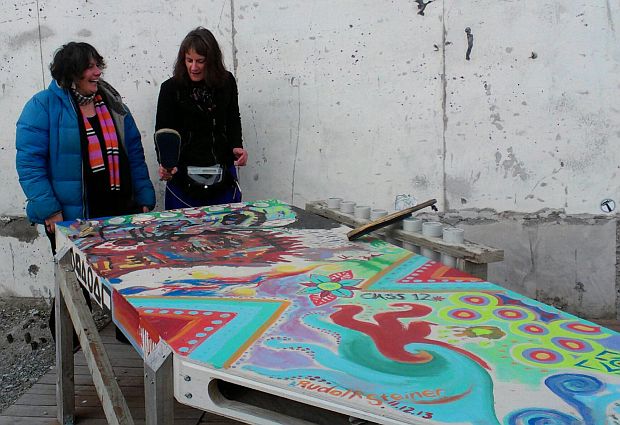 Musical instrument made from recycled materials
Christchurch is gearing up for its first Laughter Wellness Conference. Katy Gosset talks to the organisers and hits the streets to ask Cantabrians what makes them laugh. Audio
What's brown and sticky? I know, I know, you've heard it before. But it's the joke that always gets a laugh and that's just what Christchurch needs right now.
The city is about to host its first Laughter Wellness Conference organised by a local laughter yoga coach, and the director of Workplace Wellbeing, Hannah Airey. "I just thought this is such an opportunity to be able to share with the whole of New Zealand, what is actually happening in Christchurch on a really positive note and to be able to share these tools for stress relief."
And, by way of demonstration, she and fellow conference speaker, Lisa Tui Jonathon, take me on a tour of the inner city. We play mini golf, make music with recycled instruments and shake it on Gap Filler's Danceomat.
Delegates at the upcoming conference will enjoy a similar tour and also experience a wide range of speakers including positive psychologists, life coaches, musicians and even a joyologist. 
Hannah Airey believes that anxiety and depression are rife around the world but that laughter has the ability to increase levels of serotonin which, she says, become depleted in people who have depression. "Of course anxiety is adrenalin and cortisol coursing through your body too so, with the laughter, it's really, really important to know that you can actually check in at any time. You've got the largest pharmaceutical company inside your body at any time."
She says the conference will explore ways of accessing laughter and well-being on a regular and conscious level. "It's about being well in our city as it is today, not waiting for the Rebuild because it's going to take a lot of time."
So can we really laugh any time we choose, like watching TV on demand? Hannah says yes and proceeds to do exactly that: laugh on demand. Feel free to try this at home, or indeed, anywhere.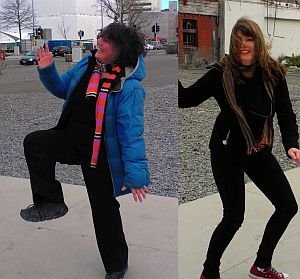 Meanwhile a tour of Christchurch streets also offers the chance to ask Cantabrians what makes them giggle. Four years since the first of the city's major earthquakes, locals are laughing at everything from their children's antics, YouTube and "inappropriate jokes" to slapstick humour, online memes and pranks such as "cream cheesing" a colleague's car.
But there's no such thing as too much mirth and the Laughter Wellness Conference will offer yet more tools to help people access that internal pharmaceutical company. The conference will be held on 13-14 September 2014 at the EPIC Sanctuary on the corner of Tuam and Manchester Streets. Proceeds will go to Lotus Community Wellbeing Trust, an organisation dedicated to delivering positive psychology and laughter workshops to community groups in need.
So what is brown and sticky? The answer is quite simply: a stick. Yes, it's silly, but odds are you're laughing.