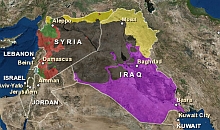 Nathan Ruser is founding member of the Institute of United Conflict Analysts who monitor a number of conflicts from their homes. Their maps have been used by Human Rights Watch, and various media publications.
Every day Nathan scours Twitter, Facebook and YouTube for the latest on combat situations in places like Syria and Iraq which he uses to update maps detailing territorial control.
He's part of a new generation of young amateur mappers who have realised you don't need to work for an intelligence agency to monitor insurgents.
He talks with Lynn Freeman.