Nine To Noon for Tuesday 18 August 2015
09:05 Bomb blast in Thailand
Police in Thailand say at least nineteen people have been killed by a bomb attack on a popular Hindu shrine in the capital Bangkok. More than a hundred and twenty people were wounded. Reports say the device was carried on a motorbike. The explosion at a major intersection near the Erawan shrine caused devastation in a major tourist area, with people near the shrine taking the full force. The BBC's correspondent Jonathan Head was at the scene.
09:15 More people trying to access Kiwisaver early due to hardship
In the last financial year, 8276 people made financial hardship withdrawals from the scheme, worth more than 41 million dollars. The numbers have been steadily rising since the scheme was introduced in 2007. The Federation of Family Budgeting Services says more and more people are asking for help to try to access Kwisaver due to hardship, and are often upset that they cannot get as much as they think they can.
Geoff Curson is the coordinator of the Newtown Budgeting and Advocacy Service; and Bruce Kerr is the executive director of Workplace Savings New Zealand.
09:30 Does sexism exist in publishing?
Using a pen name is not new, Mary Ann Evans aka George Elliot did it back in the 1800s. In 2015 Catherine Nichols also became 'George' out of frustration at the response from publishers to her new manuscript.  As 'George' she got back more than eight times the number of responses she received as Catherine.
09:45 US correspondent Steve Almond
10:05 Craig Millar - genomics and molecular evolution
Just how did huge moa incubate their eggs without breaking them? And what the latest DNA technology tells us about how New Zealand's birds have evolved? Professor Craig Millar of Auckland University discusses the fascinating world of ancient DNA.
10:25 Book review: Bullrush by David Slack
Bullrush by David Slack
Published by HarperCollins
10:45 The Reading: 'Gutter Black' by Dave McArtney
Highlights from the intimate memoir by the late Dave McArtney, a founding member of one of NZ's iconic rock bands, 'Hello Sailor' recalling their days of creativity, misadventure, success and excess. Read by Phil O'Brien. (5 of 6, RNZ)
11:05 Business commentator Rod Oram
Solid Energy, and the impending GST on more online purchases.
11:20 From climate change to card tricks, Maths has the answers!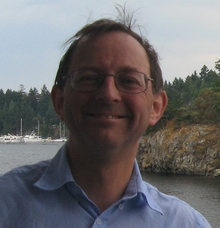 Need a mortgage? Buying a new car? Going on holiday? You won't get far unless you have a basic grasp of mathematics. But for something that plays such a vital role in our everyday lives, maths has a poor popular image. Professor Chris Budd (OBE) has devoted his working life trying to change that, demonstrating and talking about the beauty of mathematics and its role in everything from folk dancing and food, to cancer treatment and space travel.
Professor Budd is in New Zealand as a visiting Seelye Fellow at the University of Auckland. As well as collaborating with science scholars, he will give a public lecture in Auckland on 18 August and is also visiting several schools in Palmerston North. His public lecture will use differential equations, statistics and a touch of chaos to see whether maths can help us make sense of one of the biggest issues of our time: climate change.
Chris Budd is the Director of the award-winning Bath Taps into Science festival held each year in the UK city where he is a Professor of Applied Mathematics at the University of Bath.
11:45 Media commentator Gavin Ellis
Music played in this show
Artist: Abigail Washburn
Song: Divine Bell
Album: City of Refuge
Time: 9.55
Artist: Al Green
Song: Take Me to the River
Album: Al Green explores your mind
Time: 10.06
Artist: Oscar Brown Jnr
Song: Humdrum Blues
Album: Sin & Soul
Time: 10.35
Artist: Marlon Williams
Song: Lonely Side of Her
Album: Marlon Williams
Time: 11.42