Nine To Noon for Tuesday 28 July 2015
09:05 What effects are financial pressures having on tertiary students?
Nearly 44 percent of full time students say they don't have enough money to meet their basic needs, according to a new survey of five thousand students conducted by the New Zealand Union of Students' Associations. 
Maria Goncalves-Rorke is a former student financial services advisor; Sarah Miller is a student advocate at Massey University and Dr Cathy Stephenson is a  GP at VUW student health services. 
09:20 Reducing Hepatitis C cases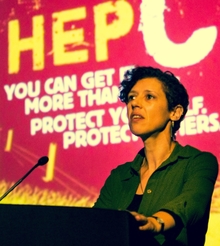 Dr Magdalena Harris is a former drug user who is now an academic in social research for the London School of Hygiene and Tropical medicine. Getting clean led her to pick up her abandoned studies – achieving a PhD looking at the experience of living with Hepatitis C in New Zealand and Australia. Dr Harris a Trustee for the UK Hepatitis C Trust and an Editorial Board Member for the International Journal of Drug Research. Dr Harris is a keynote speaker at this country's first Hepatitis C Summit in Wellington today, which has an aim of eliminating the disease in New Zealand.
09:45 US Correspondent Susan Milligan
Susan Milligan reports on how President Obama is now aggressively trying to sell the Iran nuclear deal on Capitol Hill, and why Donald Trump is still dominating the polls in the Republican presidential candidate race.
Susan Milligan is a former White House and National Political Correspondent for the Boston Globe. She is a Contributing Editor to US News and World Report. She also writes for The Washingtonian, Rhode Island Monthly, AARP Bulletin, eJournal and other publications. She teaches a course in Government and the Media to Boston University students at the Washington DC Campus.
10:05 The Lawson quins are now 50
When they were born 50 years ago, the Lawson quins became the nations darlings - the first set of quintuplets born in New Zealand. But despite all the women's magazines features depicting a happy childhood, the reality was far more grim. Their parents divorced and their mother remarried a man who was a violent abuser who went on to kill their mother when they were 16. Kathryn talks to Shirlene and Deborah Lawson.
10:35 Book Review: The Dust that Falls from Dreams by Louis de Bernieres
Reviewed by Anne Else, Published by Harvill Secker.
10:45 The Reading: Five Sons & 100 Muri of Rice by Sharyn Steel and Zoe Dryden
Read by Susan Wilson and Uma Giri (Episode 7 of 12)
11:05 Business commentator Rod Oram
Rod Oram discusses this week's TPP negotiations in Hawaii; Brett Hewlett's departure as CEO of Comvita; and the sale of the Financial Times and possible a stake in The Economist.
11:20 What makes a city, a city?
In The Villa at the Edge of The Empire, author Fiona Farrell explores the essence of cityhood and community with a particular focus on Christchurch. From its founding, to its post-quake devastation, and ongoing rebuild, she gives a personal and provocative take on the place she calls home.
Fiona Farrell will also address fundamental questions like how cities are imagined and reimagined, as part of the Christchurch Arts Festival's Shifting Points of View talks.
11:45 Media commentator, Gavin Ellis
Gavin Ellis discusses the sale of two of the world's most important financial newspapers - the Financial Times and The Economist.
Gavin Ellis is a media commentator and former editor of the New Zealand Herald. He can be contacted on gavin.ellis@xtra.co.nz