Nine To Noon for Wednesday 27 May 2015
09:05 Schools agree to collect and share data on bullying
The Human Rights Commissioner says getting school principals to agree to collecting and sharing data on bullying is a breakthrough.
The Bullying Prevention Advisory Group has agreed to the idea which is part of its revised guidelines for schools just issued. David Rutherford discusses how data collecting and sharing might work.
09:25 What role is agriculture and politics playing in how California deals with its drought?
California is in the grip of its worst drought in over a thousand years with no significant rainfall in about four years, and only about a year's supply of water left in its reservoirs. Water restrictions imposed by the state's governor are meant to cut water consumption in urban areas by a quarter, but with agriculture taking up 80 percent of California's water – and only delivering 2 percent of its wealth GDP – there are questions about how agribusiness has put the squeeze on precious water resources and is getting an unfair share.
Agriculture is the heart of California's worsening water crisis, and the stakes extend far beyond the state's borders. Not only is California the world's eighth largest economy, it is an agricultural superpower. It produces roughly half of all the fruits, nuts and vegetables consumed in the United States, and more than 90 percent of the almonds, tomatoes, strawberries, broccoli and other specialty crops, while exporting vast amounts to China and other overseas customers.
Mark Hertsgaard has reported on politics, culture and the environment from more than 20 countries and has authored six books, including HOT: Living Through the Next Fifty Years on Earth (published April 2015, paperback).
09:45 Australia correspondent Karen Middleton
Karen Middleton reports on the Australian Government is revoking the citizenship of dual nationals who are involved in terrorism or fighting overseas for groups such as IS.
10:05 Natural Born Heroes, and Born to Run with Christopher McDougall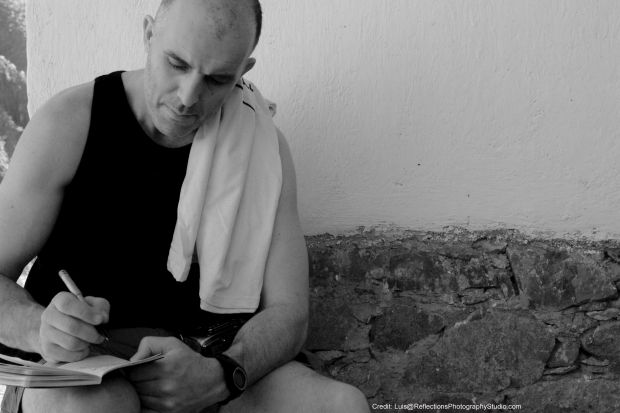 Christopher McDougall is a former war correspondent for the Associated Press and is now a contributing editor for Men's Health, he's also written for Esquire, and The New York Times Magazine, Outside. His latest book Natural Born Heroes transports the reader to the Mediterranean and the physical challenges faced by resistance fighters in World War Two on the Greek island of Crete.
Books:
'Natural Born Heroes' by Christopher McDougall published by Profile Books.
'Born to Run' by Christopher McDougall published by Profile Books.
10:30 Book Review: HOOPLA series 2015 (poetry)
Reviewed by Harry Ricketts
HOOPLA series 2015 (poetry)
Mr Clean and The Junkie by Jennifer Compton (Mākaro Press, 2015).
Native Bird by Bryan Walpert (Mākaro Press, 2015).
Bones in the Octagon by Carolyn McCurdie (Mākaro Press, 2015).
10:45 The Reading: 'Before I Forget', by Jacqueline Fahey
The second volume of memoirs by well-known painter, feminist and writer Jacqueline Fahey. Told by Denise O'Connell (3 of 5, RNZ).
11:05 Marty Duda's artist of the week: Herbie Hancock
Herbie Hancock has helped reinvent what people consider to be jazz music, not once, but several times. He started out with a bang in the early 1960s with the hit Watermelon Man, from his debut album. He then joined Miles Davis and became an integral member of what was to become one of the most important jazz ensembles ever put together. Herbie's 1973 album 'Headhunters' was one of the first jazz-fusion albums, inserting a big dollop of funk into the mix. In 1983, his video for Rockit became an MTV hit and mixed hip-hop with funk and jazz. More recently Herbie Hancock became only the second jazz artist to win the Grammy for Album Of The Year when his 'River: The Joni Letters', a tribute to the music of Joni Mitchell, won in 2008. Herbie Hancock will perform in Auckland at The Civic Theatre along with jazz great Chick Corea this Saturday.
Tracks:
1. 'Watermelon Man' – Herbie Hancock taken from 1962 album, Takin' Off (Blue Note)
2. 'Chameleon' – Herbie Hancock taken from 1973 album Headhunters (Columbia)
3. 'Rockit' – Herbie Hancock taken from 1983 album Future Shock (Columbia)
4. 'Tea Leaf Prophecy' – Herbie Hancock featuring Joni Mitchell taken from the 2007 album, River: The Joni Letters (Verve)
11:30 Legal commentator, Tony Bouchier on legal aid funding
Tony Bouchier, President of the Criminal Bar Association discusses legal aid funding.
11:45 Science commentator Siouxsie Wiles
Siouxsie Wiles discusses how gut bacteria can help fight hospital infections.
Music played in this show
Artist:   Anna Coddington
Song:  The Runner
Composer:  Coddington
Album: Single
Time: 0945
Artist:   BB King
Song:  Bad Luck Soul
Composer: Jefferson/King/Taub
Label: Kent
Time: 1145