Nine To Noon for Monday 30 March 2015
09:05 How did the pilot of Germanwings flight 4U 9525 who deliberately crashed the plane, remain in his job given his mental state?
Deputy President  of the International Federation of Airline Pilots Association, IMALPA, Martin Chalk.
09:17 Australia's comprehensive Cricket World Cup Victory
Antony Pinshaw, Fox sport.com cricket writer.
09:27 Challenges facing the Marshall Islands
Tony de Brum is the Minister of Foreign Affairs of the Republic of the Marshall Islands on the challenges facing his nation. The Marshall Islands lie just north of the Equator and is made up from two chains of coral atolls and more than one thousand islets. The sea is rising around the republic and Foreign Minister Tony de Brum is continuously campaigning at world forums for climate change to be addressed as it threatens the existence of the Islands, with many parts barely a metre above sea level. Are densely populated small atolls sustainable?
09:40 Middle East correspondent, Kate Shuttleworth
09:50 What should be done to assess the mental health of airline pilots? 
This follows revelations that Andreas Lubitz, the co-pilot of the crashed Germanwings flight was suffering from mental illness which he kept hidden from his employer.  It is believed he deliberately crashed the plane into the French alps, killing all 150 people on board.
Ilja Shulz is the president of the German Airline Pilots Association.
10:05 The impact of environmental factors on our genes
Professor Joe Nadeau is at the forefront of the study of epigenetics, investigating how environmental factors like diet, stress and conditions in the womb can alter a person's genetic make-up. He is an award winning scientist at the Pacific Northwest Institute in Seattle. His most recent breakthrough is the discovery that epigentic changes can be passed down from parent to child for several generations, but it's still unclear how or why that happens.
10:35 Book review: 'The Legend of Winstone Blackhat' by Tanya Moir
Published by Penguin Random House. Reviewed by Elisabeth Easther.
10:45 The Reading: 'The Dwarf Who Moved' by Peter Williams QC
Observations and anecdotes from the life of New Zealand's pre-eminent criminal defence lawyer. (Part 5 of 8, RNZ).
11:05 Politics with Matthew Hooton and Mike Williams 
Political commentators Matthew Hooton and Mike Williams on the outcome of the Northland by-election.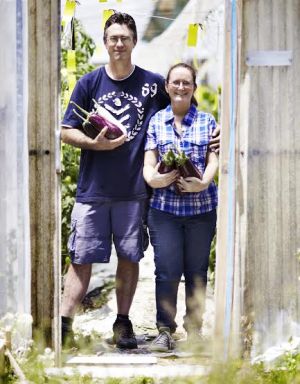 11:30 Curious Tomatoes
Clevedon tomato growers Anthony and Angela Tringham from Curious Croppers.If you have a glut of tomatoes at the moment, they have recipes for Gazpacho, Tomato, Ricotta and Oatcake Canapes and Caprese Salad.
The Tringhams have been selling their produce at the Clevedon Farmers Market on Auckland southern outskirts and two years ago they began supplying restaurants. The couple grows rare and unusual tomatoes.
Photo by Manja Wachsmuth.
Gallery: Curious Tomatoes
11:45 Urbanist Tommy Honey
The controversial plans to extend the Bledisloe Wharf by Ports of Auckland.
Links:
Local talent leads world-class New Zealand International Convention Centre (NZICC) design project team, SkyCity press release
How SkyCity and the Government poisoned the Convention Centre, Sunday Star Times
Port expansion: Legal action over Auckland port fight, NZ Herald
Editorial: No excuse for mayor's stand on port plans, NZ Herald
Len Brown: Time for a conversation about the port, NZ Herald
Music played in this show
Artist: Of Monsters and Men
Song: Crystal
Composer: n/a
Album: Of Monsters and Men
Label: UNIVERSAL PROMO
Time: 10.30am
Artist: Hurray for the Riff Raff
Song: Blue Ridge Mountain
Composer: Segerra
Album: Small Heroes
Label: ATO 830783
Time: 10.45am
Artist:   Leon Bridges   
Song: Coming Home
Composer: Bridges
Album: single
Label: COLUMBIA PROMO
Time: 11.30am
Artist: Brook Fraser
Song: Jack Kerouac
Composer: Fraser
Album: Flags
Label: SONY 777724
Time: 11.45am