Nine To Noon for Monday 16 March 2015
09:05 Save the Children in Vanuatu on latest after cyclone
Tom Skirrow is the Country Director of the aid agency Save The Children, based in Port Vila, Vanuatu.
09:15 Is Auckland becoming increasingly racially segregated?
Professor Paul Spoonley of Massey University, a project leader for a major research programme on immigration and diversity, says many small and medium employers assume anyone with an Asian name is an immigrant and won't take them on. 
A quarter of the Auckland population is now Asian - and one in 5 Auckland Asians are New Zealand born. A 2014 report written for the State Services Commission shows there are signs of increasing discrimination against Asians in the city - which it says causes people to withdraw back into their communities, leading to segregation. Shawn Tan, Immigration Consultant.
09:20 US technology and security expert Bruce Schneier on his new book about personal data collection and how to minimise your technology footprint
How much do you know about what others might know about you, from your use of technology? How do you minimise your online footprint on things you'd rather keep private? Bruce Schneier is a US technology and security expert whose latest book Data and Goliath: The Hidden Battles to Collect Your Data and Control Your World highlights just how much information is being gathered by governments and corporations through our use of phones and computers.
09:45 South America correspondent, Joel Richards
Joel Richards reports on the helicopter crash in Argentina that killed some top French athletes; and the latest on the investigations into the death of Argentinian prosecutor Alberto Nisman.
10:05 Former Tall Black's love letter to basketball
John Saker was a Tall Black from 1975 until 1987. He was one of the first New Zealanders to get a basketball scholarship to a US University, and then became the country's first professional player, taking up a contract with a French side.
During that stint in France, a love of wine blossomed, inspiring a secondary career as a wine writer. John Saker remains passionate about basketball, his latest book is called Open Looks and is a kind of a love letter to the sport.
10:25 Book review: 'The Tears of Dark Water' by Corban Addison
Published by Hachette. Reviewed by Phil Vine.
10:45 The Reading: 'A Needle in the Heart' by Fiona Kidman
Esme has a sewing machine needle floating around her body. Over the years we trace the ups and downs of her life, a complex weave of heart ache and a lost childhood. Just as she composes herself, the needle stirs up old memories (1 of 5, RNZ)
11:05 Politics with Matthew Hooton and Mike Williams           
Political commentators Matthew Hooton and Mike Williams discuss the Northland by-election, the Green Co-leader debate and the government response to the 1080 threat.  
11:30 French Food with the French ambassador Florence Jeanblanc-Risler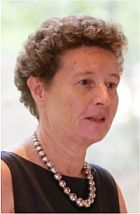 The French Ambassador Florence Jeanblanc-Risler will talk about the importance of French gastronomy in the French culture, as well as its influence worldwide and its impact on French tourism.
On March 19th, the project Good France/Goût de France is taking place around the world in 150 countries. Restaurants and French embassies will present 1500 menus, based on the structure of the French Gastronomic meal, a  7-course degustation dinner.
Florence Jeanblanc-Risler has recently arrived here and New Zealand will be the first country to celebrate Good France with a gala dinner in Wellington with a traditional French menu combined with local produce.
Recipes: Vichyssoise Soup, Baeckeoffe Alsacien, Tarte Bourdaloue
11:45 Urbanist Tommy Honey
Urban Design – the merits, or otherwise, of convention centres.
Links:
Local talent leads world-class New Zealand International Convention Centre (NZICC) design project team, SkyCity press release
How SkyCity and the Government poisoned the Convention Centre, Sunday Star Times
Debunking the conventional wisdom about conventions, Washington Post