Nine To Noon for Friday 24 October 2014
09:05 WHO discusses progress on Ebola vaccines and treatments
Nyka Alexander is a spokesperson on Ebola for the World Health Organisation, the United Nations health agency.
Read more information at the WHO's Ebola virus information page.
9:30 Giraffes - the forgotten megafauna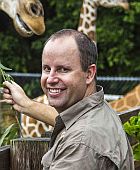 Dr Julian Fennessy, who is the inaugural executive director of the Giraffe Conservation Foundation says giraffes are the "forgotten megafauna" despite the fact their numbers have plummetted by 40 percent in the past 16 years. There are just 80,000 left in the wild. A long time giraffe conservationist, Dr Fennessy says "Scientists have lately discovered that giraffes are not the social dullards or indifferent parents they were reputed to be". Auckland Zoo is also supporting this conservation project.
Gallery: Giraffe conservation
09:45 News from the Asian region with Jamil Anderlini

10:05 Historian and author Jock Phillips
Jock Phillips is the architect and passion behind Te Ara, the online encyclopedia of New Zealand. The last segment of Te Ara,  themed 'Creative and Intellectual Life' , has just been launched featuring poets, writers, musicians and film-makers who have contributed to New Zealand's cultural history.  It's 12 years since the beginning of the project, and the completion of the last segment also marks Jock Phillips' retirement. Last night, he received a Prime Minister's Award for Literary Achievement for non-fiction at a function at Premier House.
10:30 Book Review: The Narrow Road to the Deep North by Richard Flanagan
Winner of the 2014 Man Booker prize reviewed by Tilly Lloyd
The Narrow Road to the Deep North by Richard Flanagan
Published by Vintage paperback RRP$25.00
10:45 The Reading: 'Zhu Mao' by Mark Sweet
Scott returns to Hubei Province with his wife's ashes. There he confronts the memories of the terrible events that brought them together. (10 of 10, RNZ)
11:05 New Music with Jeremy Taylor
Jeremy Taylor checks out new releases
11:30 Sport with Brendan Telfer
11:45 The week that was
Comedians Te Radar and Michele A'Court take a light-hearted look at the week.
Music played in this show
Artist: Kings of Convenience
Song:  Mrs Cold
Composer: Glambek Boe/Oye
Album: Declaration of Independence
Label: Virgin
Time: 10:35
Artist: The Phoenix Foundation
Song: A Day in the Sun
Composer: Scott/ The Phoenix Foundation
Album: Happy Ending
Label: Flying Nunn
Time: 11:45